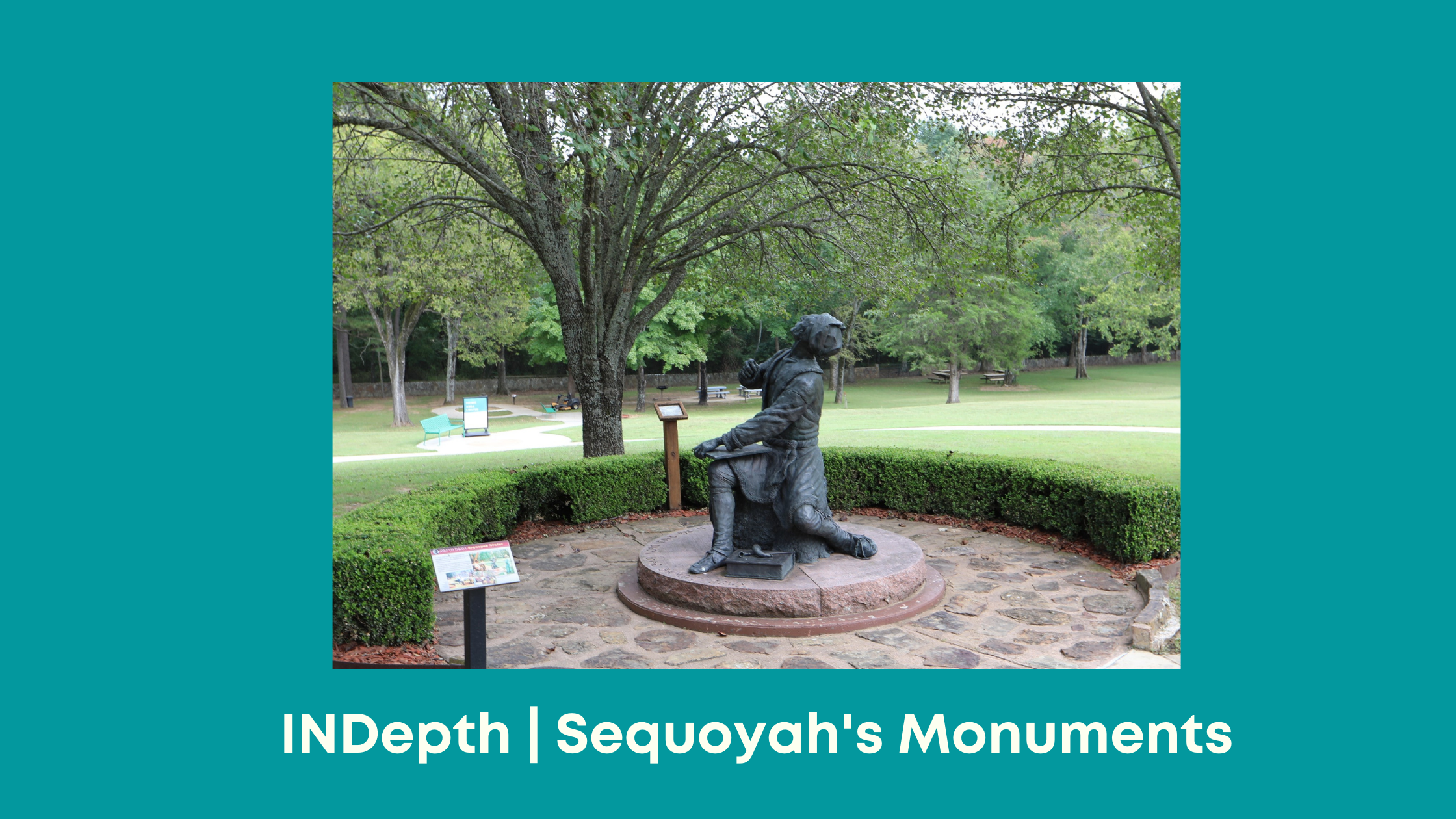 In Season 7's opening episode, we focused on the accomplishments of Sequoyah, sometimes known as the "Cherokee Cadmus" for his contribution of a Cherokee writing system. Today, we have a written language, still understood and used by many people 200 years later, because of his vision of bringing literacy to the Cherokee people. But as much as we may be familiar with his syllabary, we found that very little was definitively known about Sequoyah, and in particular, the image that comes to mind when we hear his name is largely based on a copy of a single portrait he sat for in 1824. (Cherokee Almanac: Sequoyah's Lost Portrait – OsiyoTV)
Because Sequoyah has been so revered over the centuries, many artists have taken to various mediums to both paint and sculpt him. As early as 1881, students at the Cherokee Orphan Asylum sought to have a public memorial to Sequoyah installed in Indian Territory. Students Lizzie Stinson and William Cobb appealed to the Cherokee National Council in an editorial in their school's newspaper, The Children's Playground. There's no record of whether the National Council ever took up consideration of the proposal.
But in 1899, Elias "Mack" Landrum, an up-and-coming Cherokee politician, took up the cause, forming the Sequoyah Monument Society in the Tahlequah area. This group's stated goal was to raise funds for a Sequoyah statue to be placed in the town square of Tahlequah, capital of the Cherokee Nation.
Landrum's group consisted of numerous pillars of the Cherokee Nation, including several principal chiefs, such as Joel B. Mayes, Thomas Buffington and J.C. Harris. Landrum himself took the lead in fundraising, writing to area newspapers such as the Vinita Chieftain seeking donations "by subscription." A year into his venture, Landrum's group claimed to have raised $700 and approached the Cherokee National Senate, requesting additional matching funds of up to $2,500 to be paid when the SMS had raised that amount. A deadline of June 1, 1903, was set for fundraising.
As Oklahoma statehood rapidly approached, Mack Landrum set his sites on a different goal. A new state meant new government offices to fill. Landrum ran for the State Senate, winning the seat for District 30. He had not forgotten his plan for memorializing Sequoyah, however. Using his voice as a senator from the new state, he immediately pivoted from Tahlequah to a push for the inclusion of a sculpture of Sequoyah to be placed in Washington, D.C. Famed sculptress Vinnie Ream, from whom Vinita, Oklahoma, takes its name, was selected. In 1917, Sen. Robert L. Owen, a Cherokee, unveiled the 6-foot bronze likeness at a D.C. ceremony.
With a monument to Sequoyah already secured for Statuary Hall in Washington, D.C., another group set about ensuring he was not forgotten in his home country. Colonel J.S. Holden, a historian and newspaperman from Fort Gibson, Indian Territory, started the Sequoyah Monument Association in 1907, with the goal of erecting a bronze statue of Sequoyah in Muldrow, not far from Sequoyah's home site. It was to be carved from the nearby Marble City quarry's prized marble.
Holden had been a strong proponent of the State of Sequoyah (Cherokee Almanac: State of Sequoyah – OsiyoTV) and was a Sequoyah historian, often publishing articles and even writing poetry about the Cherokee Cadmus. His extensive local knowledge earned him the nickname "The Sage of Fort Gibson." He'd even been instrumental in proving the burial location of Sam Houston's Cherokee wife, Diana (Tiana) Rogers, and seeing to it that her remains were interred formally at the U.S. National Cemetery in Fort Gibson.
The Holden association never seemed to get off the ground, and eventually he abandoned the plan. Col. Holden passed away in 1920 not having seen the monument become a reality.
It would take another 65 years for Sequoyah to receive a monument similar to what Holden had envisioned. By this time, Sequoyah's cabin and surrounding land had become a state historic site. Sculptor Fred Olds, of Guthrie, Oklahoma, was commissioned to create a bronze casting to be installed next to Sequoyah's original cabin, which was now preserved inside a small museum constructed around it.
The state covered the $18,000 cost of the bronze piece depicting Sequoyah seated and looking skyward. Another $3,000 was needed to construct a base on which to install the statue. To raise the funds, the Sequoyah County Historical Society held a successful concert featuring members of Bob Wills' Texas Playboys. The monument was installed and dedicated June 14, 1986, with then-Principal Chief Wilma Mankiller as the keynote speaker for the unveiling.
Today, you can visit Sequoyah's monument at his original homesite, near Akin, Oklahoma. (Cherokee Almanac: Sequoyah's Cabin – OsiyoTV) An inscription in his syllabary surrounds the base, reading, "Lo, Great Spirit, Sequoyah doth conceive the written word in Cherokee."
Addendum: The art pieces discussed in this blog are from the 19th and 20th centuries. You can also find several more recent sculptures of Sequoyah in and around Tahlequah by artist Daniel HorseChief. Watch his story here: Sculptor Daniel HorseChief, Honoring Cherokee History – OsiyoTV