Behind the Scenes
The complete menu for Chef Taelor Barton's Cherokee dinner at The Vault.
The crew stays far out of reach of Amy Staton's two swords as she and husband Rick face off in ground combat practice.
Slack liner Liz Thomas hangs high over Jeremy's head in Tulsa's Chandler Park
Kyle Bell gets up close and personal with Dee Keener's race horses
OsiyoTV is off to the races with famed horse trainer Dee Keener!
All hands on deck!
Always getting his shot.
Tourists, or Osiyo TV crew?
Cherokee Ballerinas
Movin on up to the Eastside!
Travis is getting Colby ready for his dockside interview.
NEW YORK CITY!
Interviewing a family from out of state who traveled to Tahlequah to visit Diligwa and the Heritage center.
Jeremy and Sterlin prepping gear for the Diligwa shoot.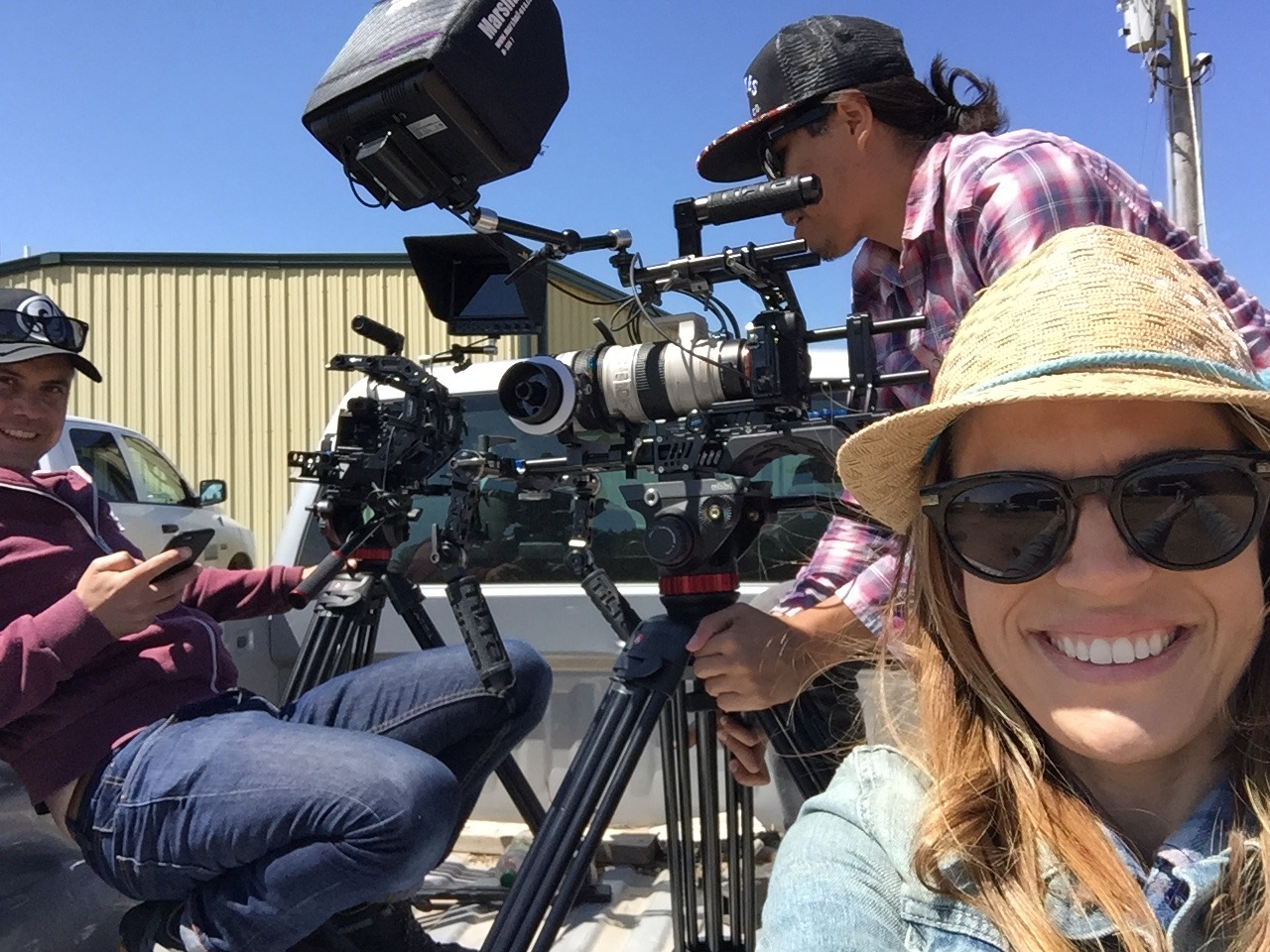 It's always a good day when our crew ends up in the back of a pickup truck.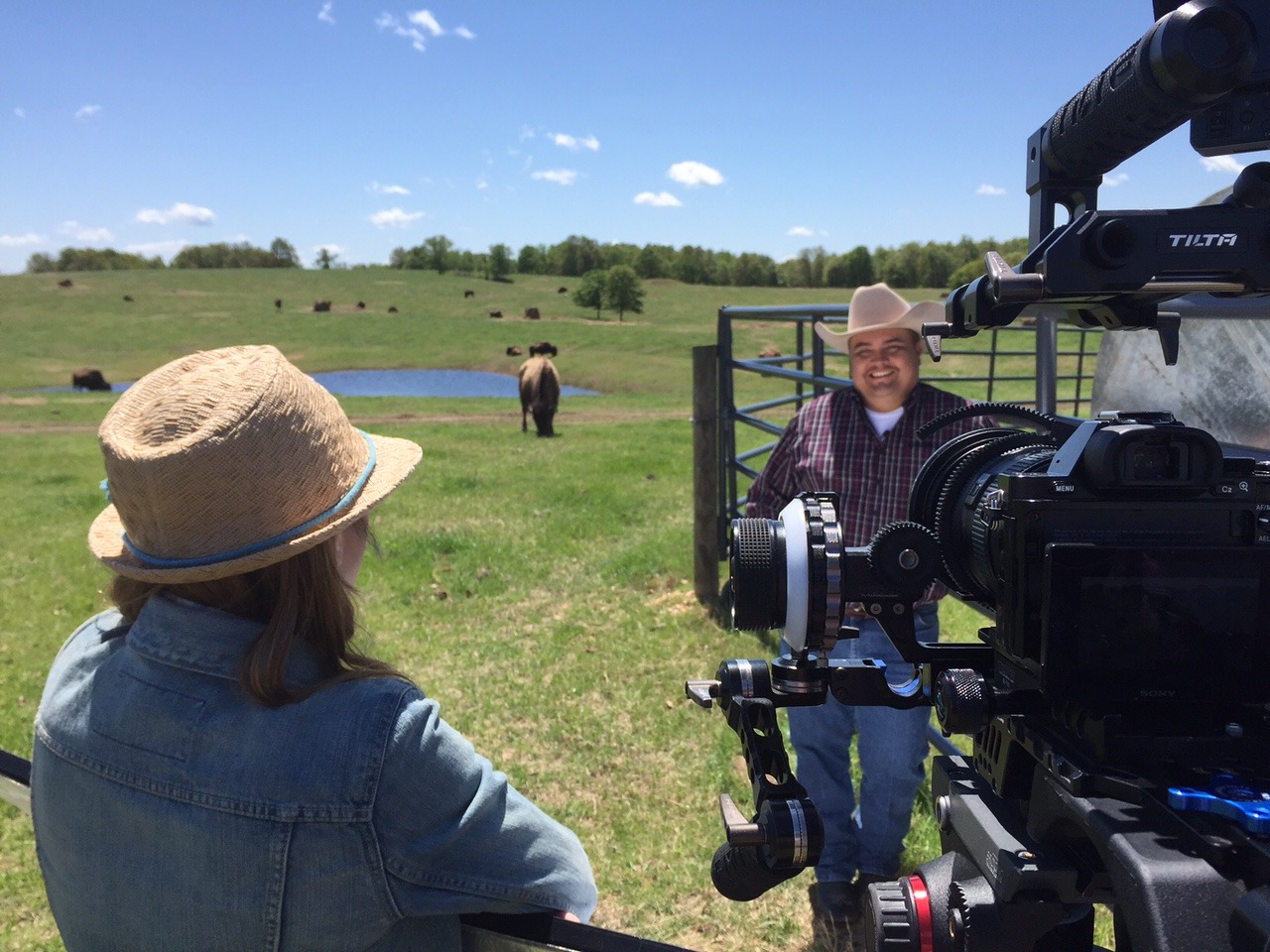 Buffalo Herdsman Chris Barnhart relaxing before his interview.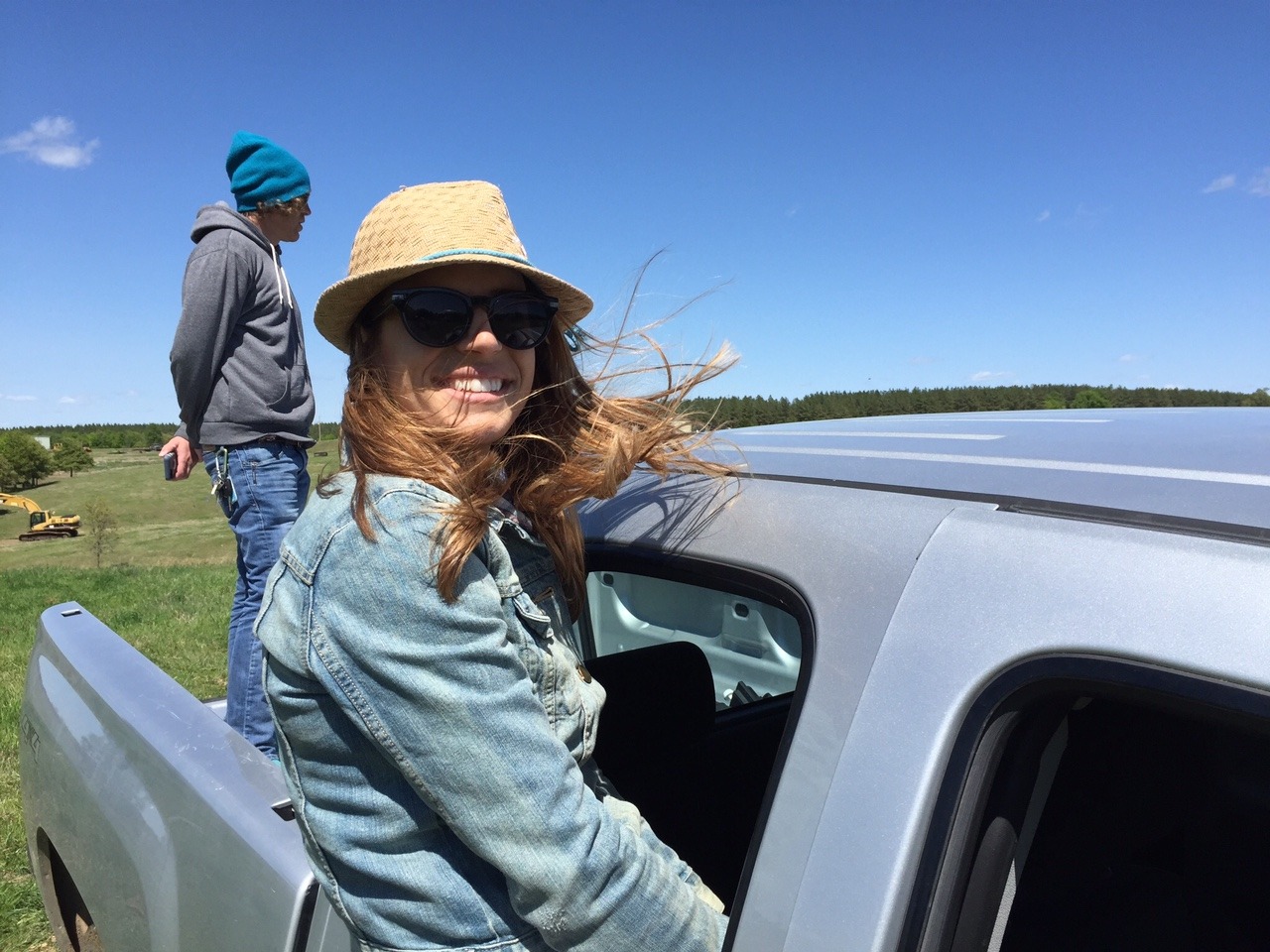 We had to fight strong winds on our bison segment.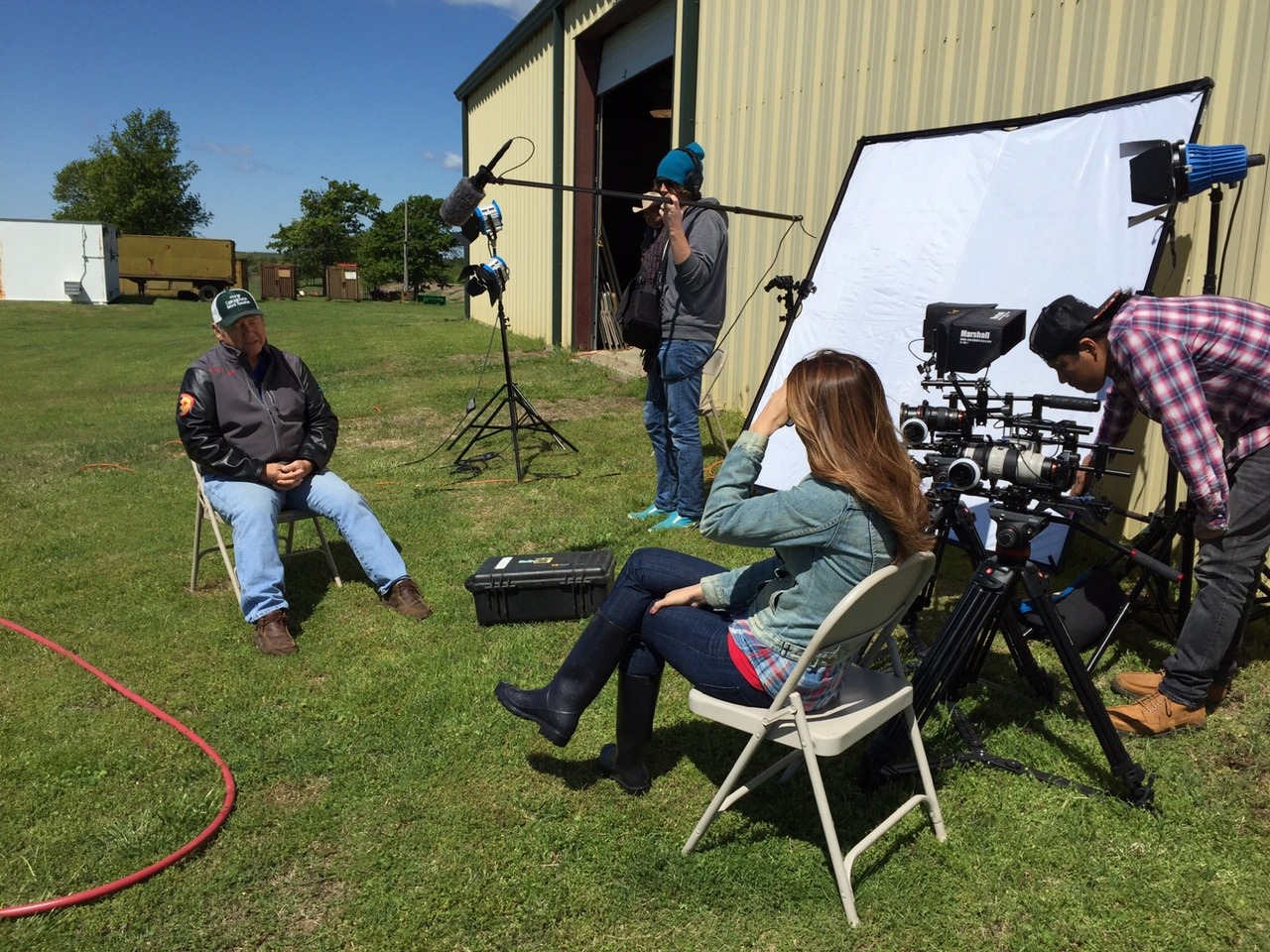 Creating perfect lighting for our interview on the Cherokee bison program.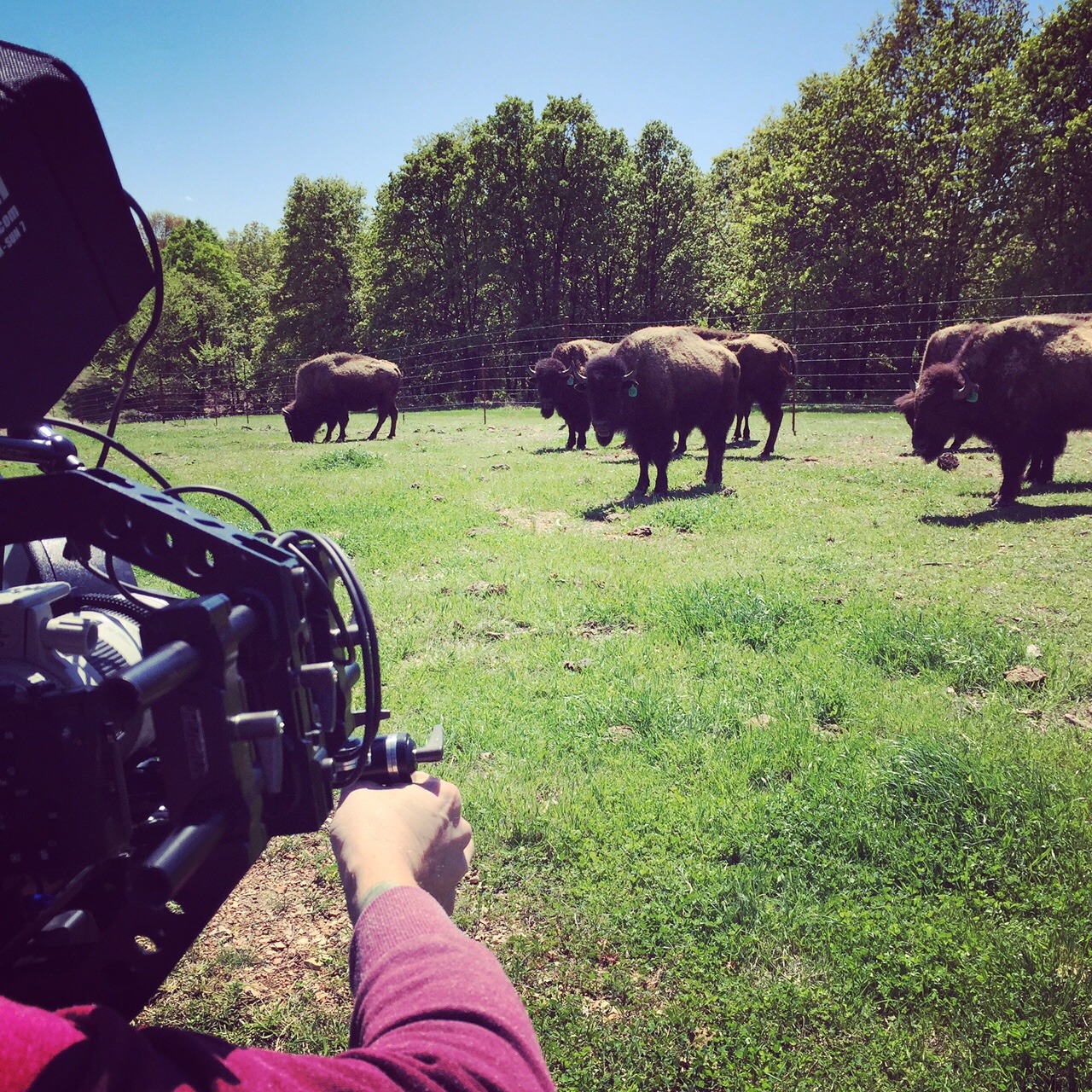 Getting up close and personal with some momma bison.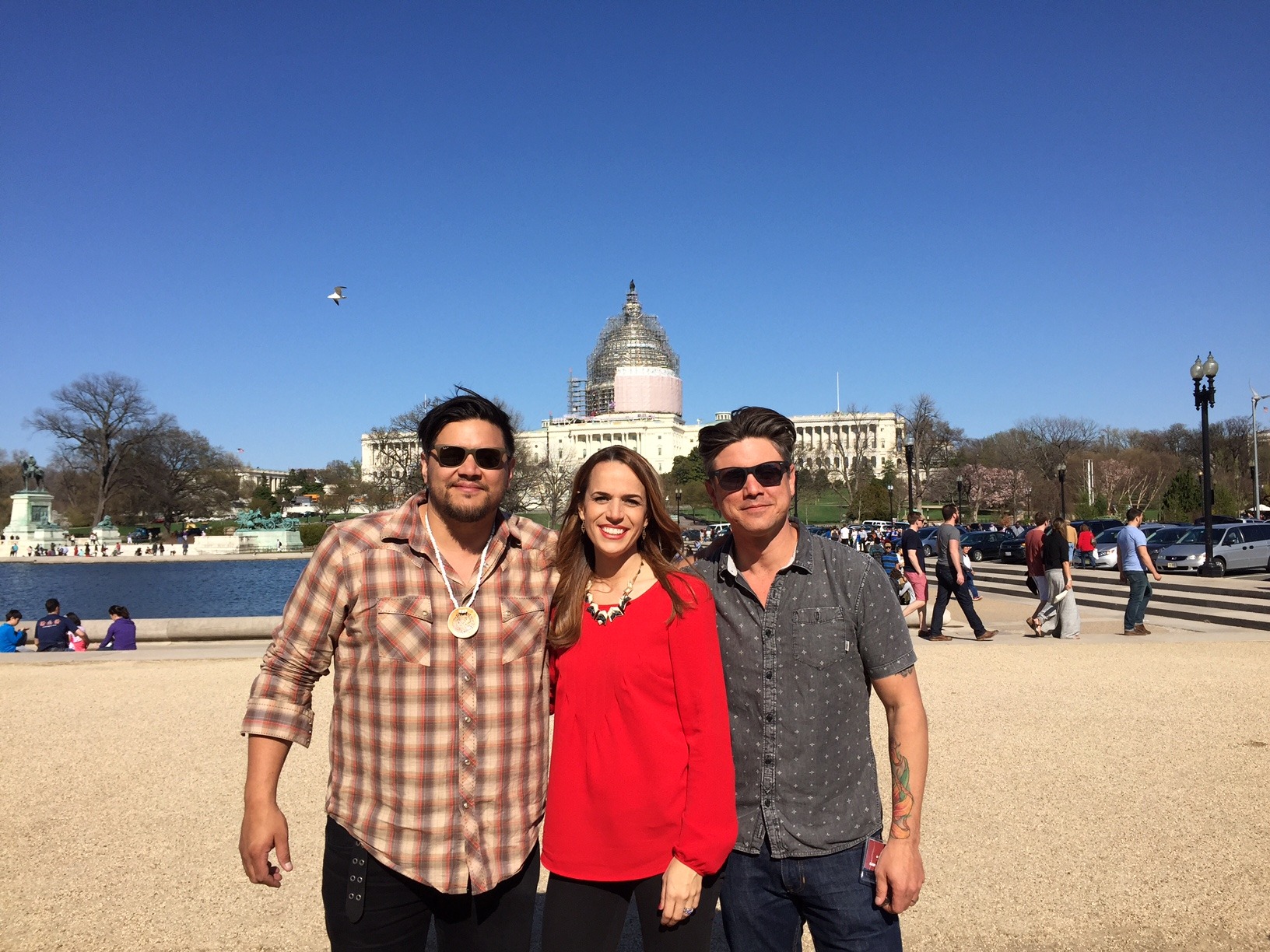 The OsiyoTV team in Washington DC.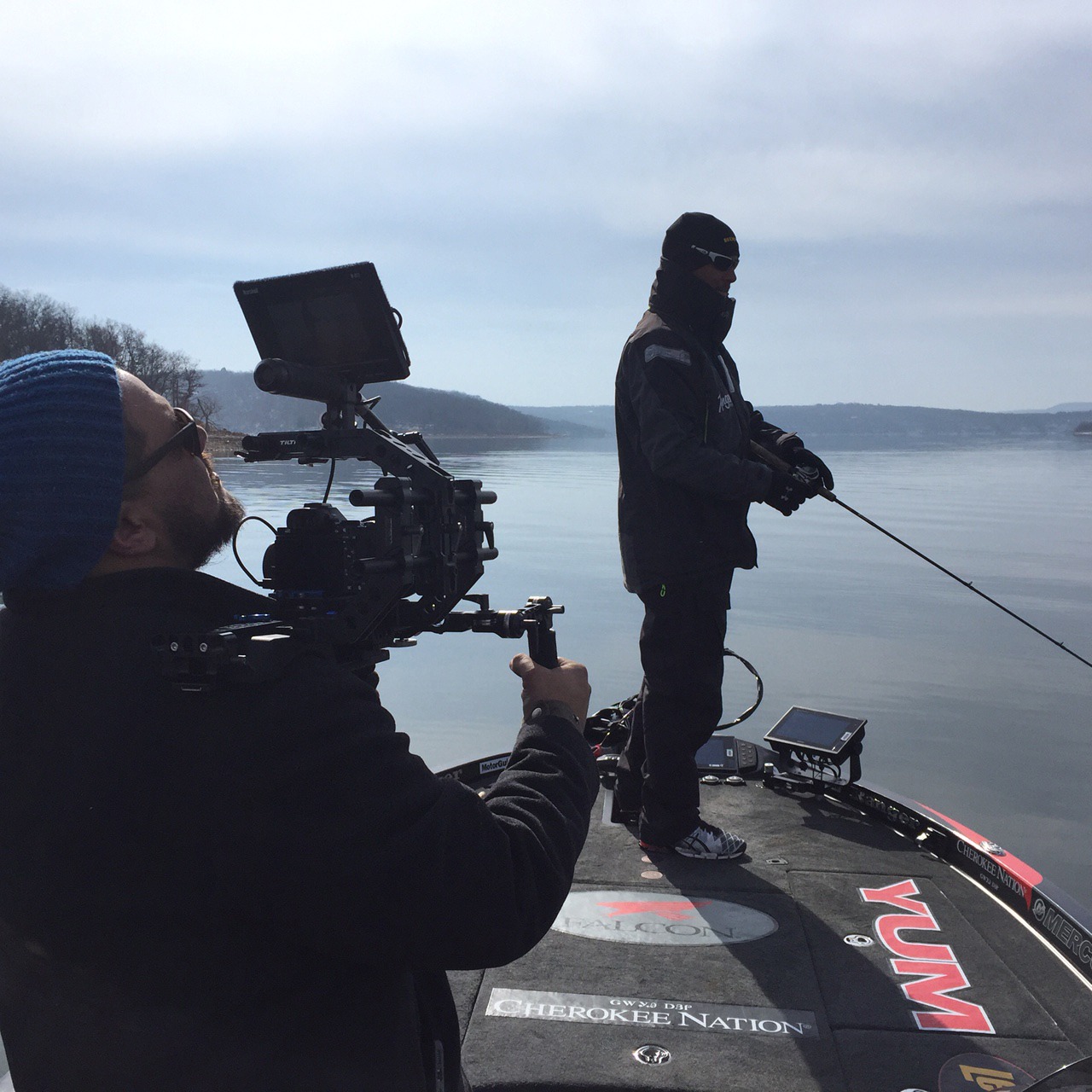 Braving the freezing temps was clearly worth it. Look at the beautiful video we got!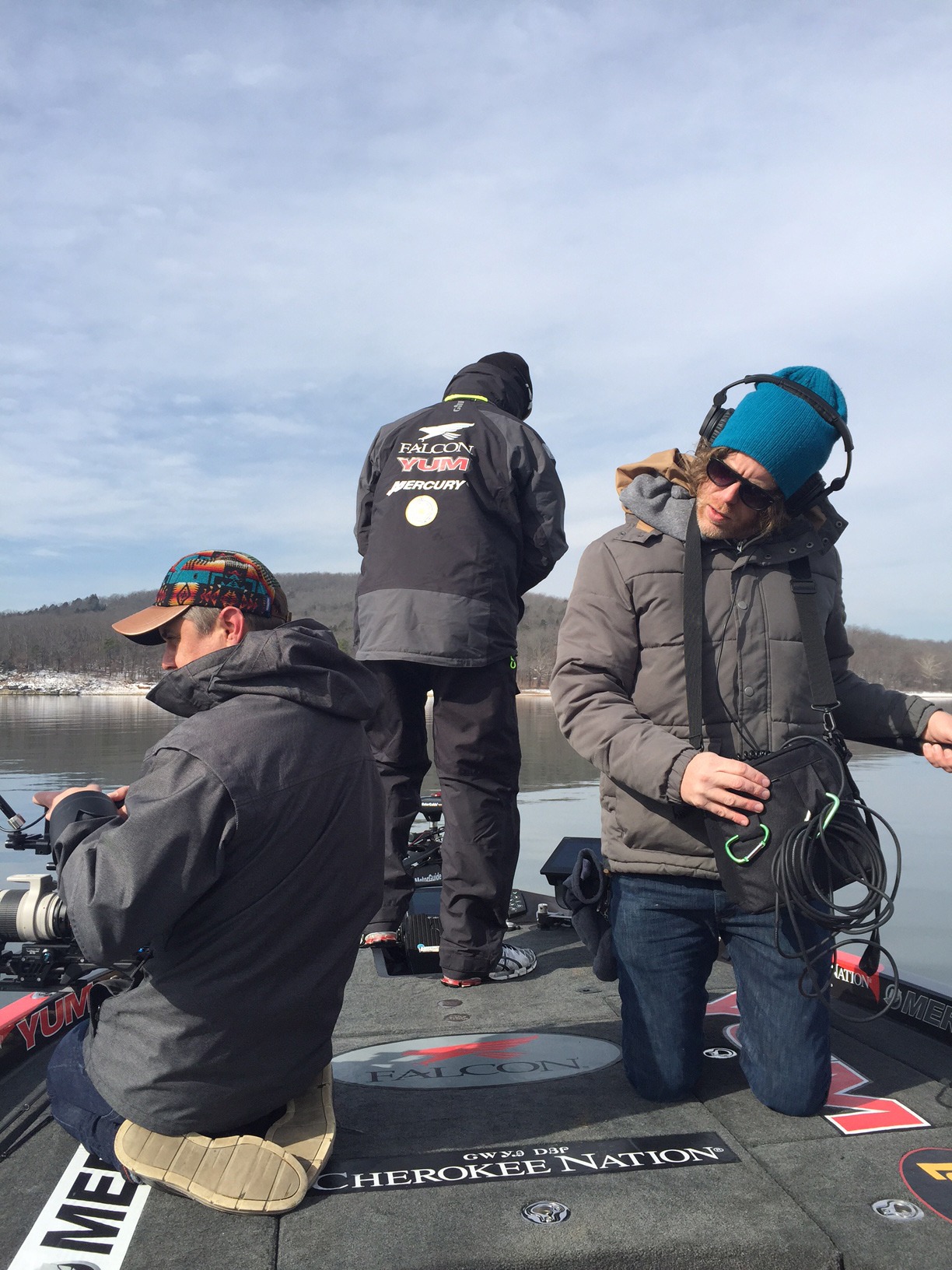 Again, we sometimes shoot in small spaces. The good news is no one went overboard.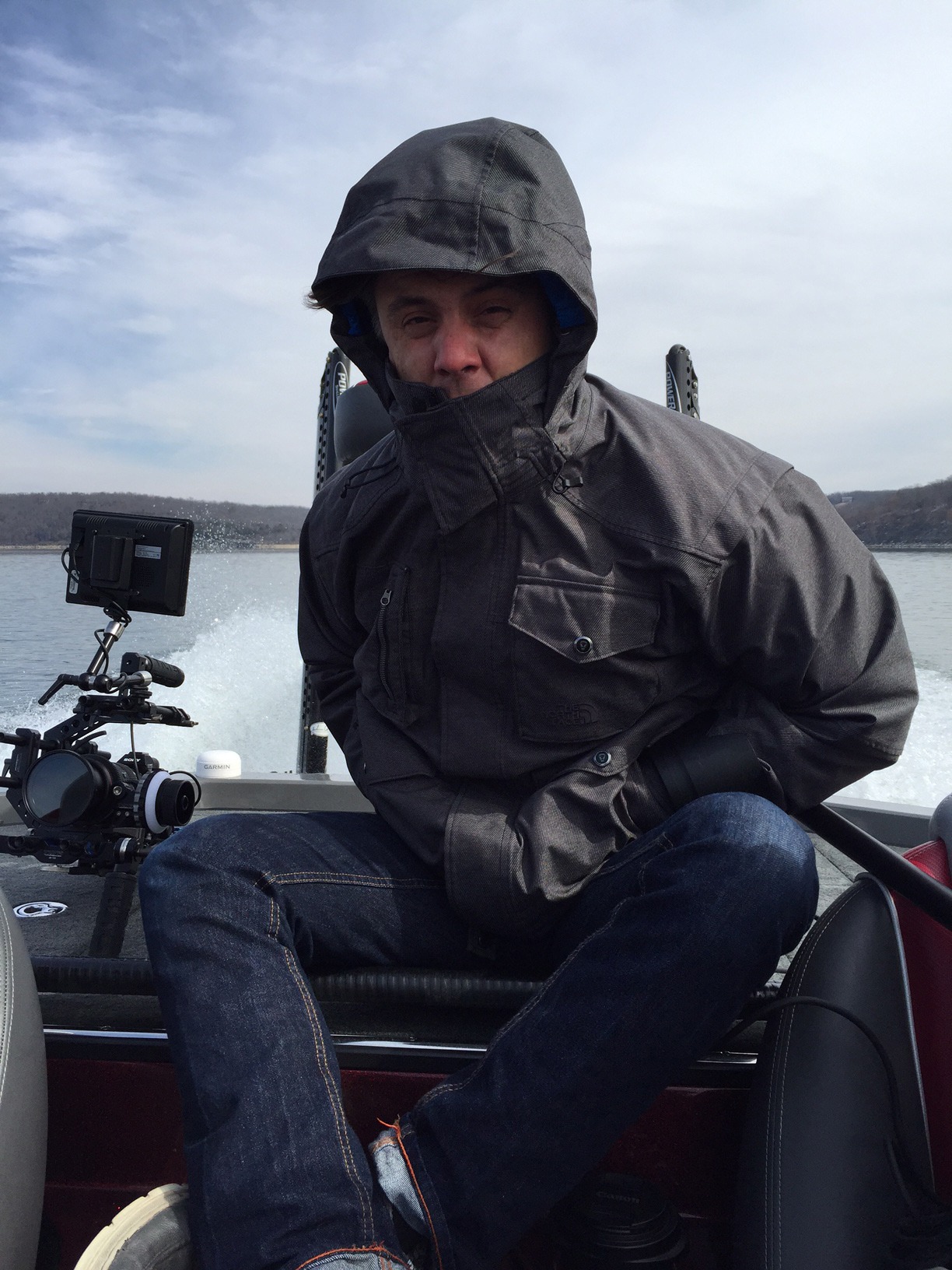 Jeremy was clearly a bit chilly on Jason Christie's boat.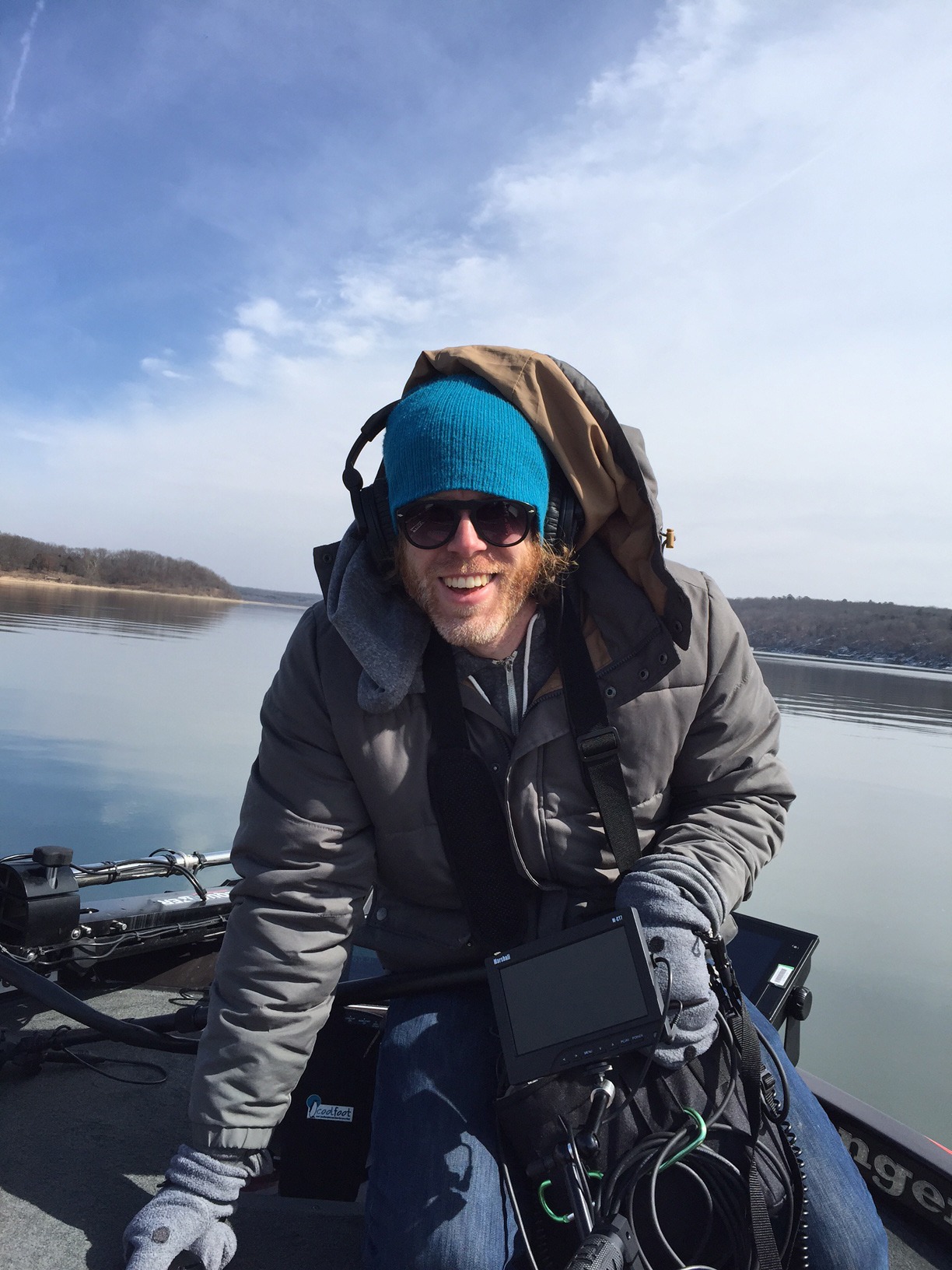 Crew member Travis Hall braving a cold February morning on Jason Christie's fishing boat on Lake Tenkiller.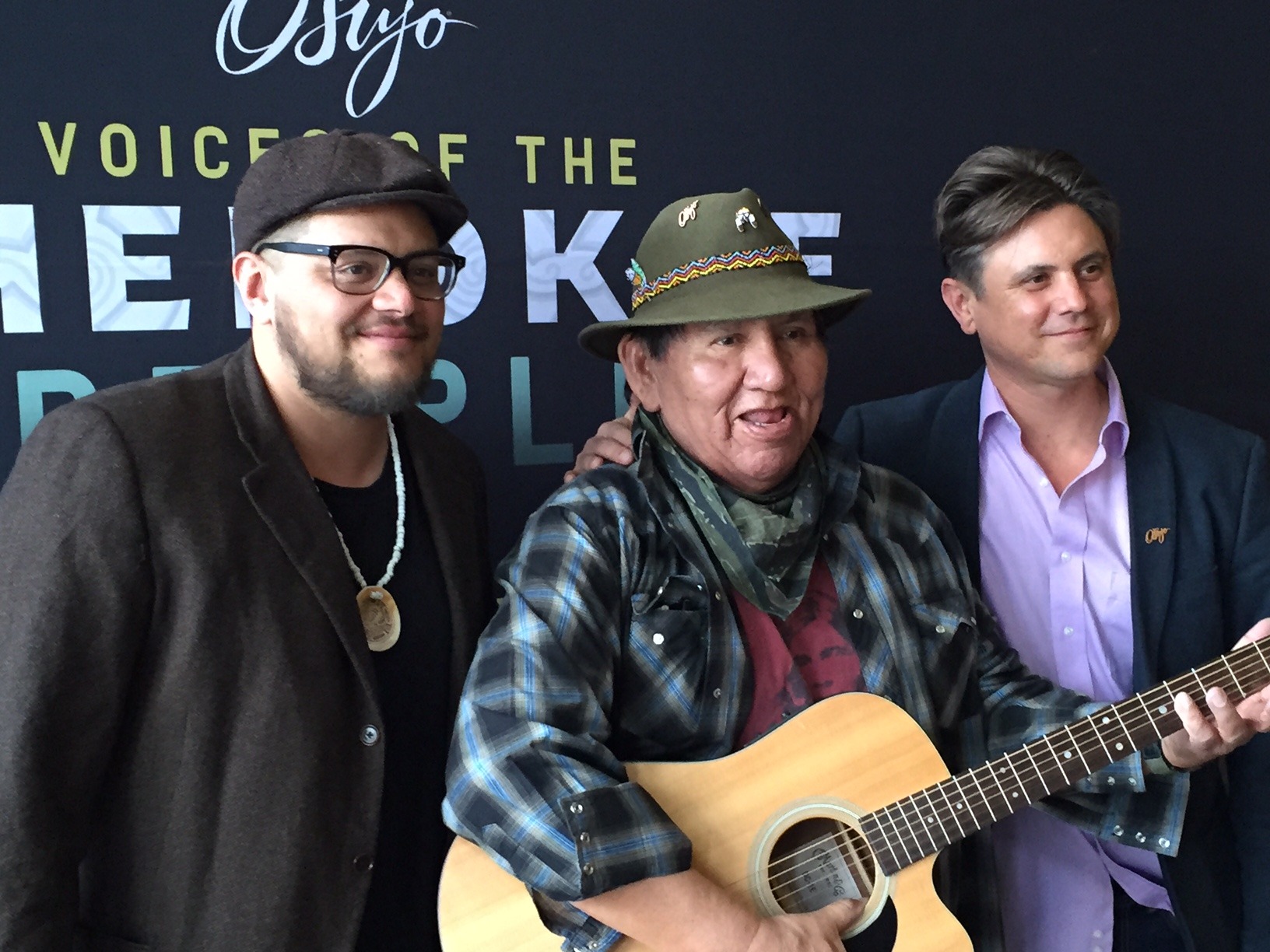 Sterlin and Jeremy with musician Jesse Nighthawk at the Tulsa Screening of OsiyoTV.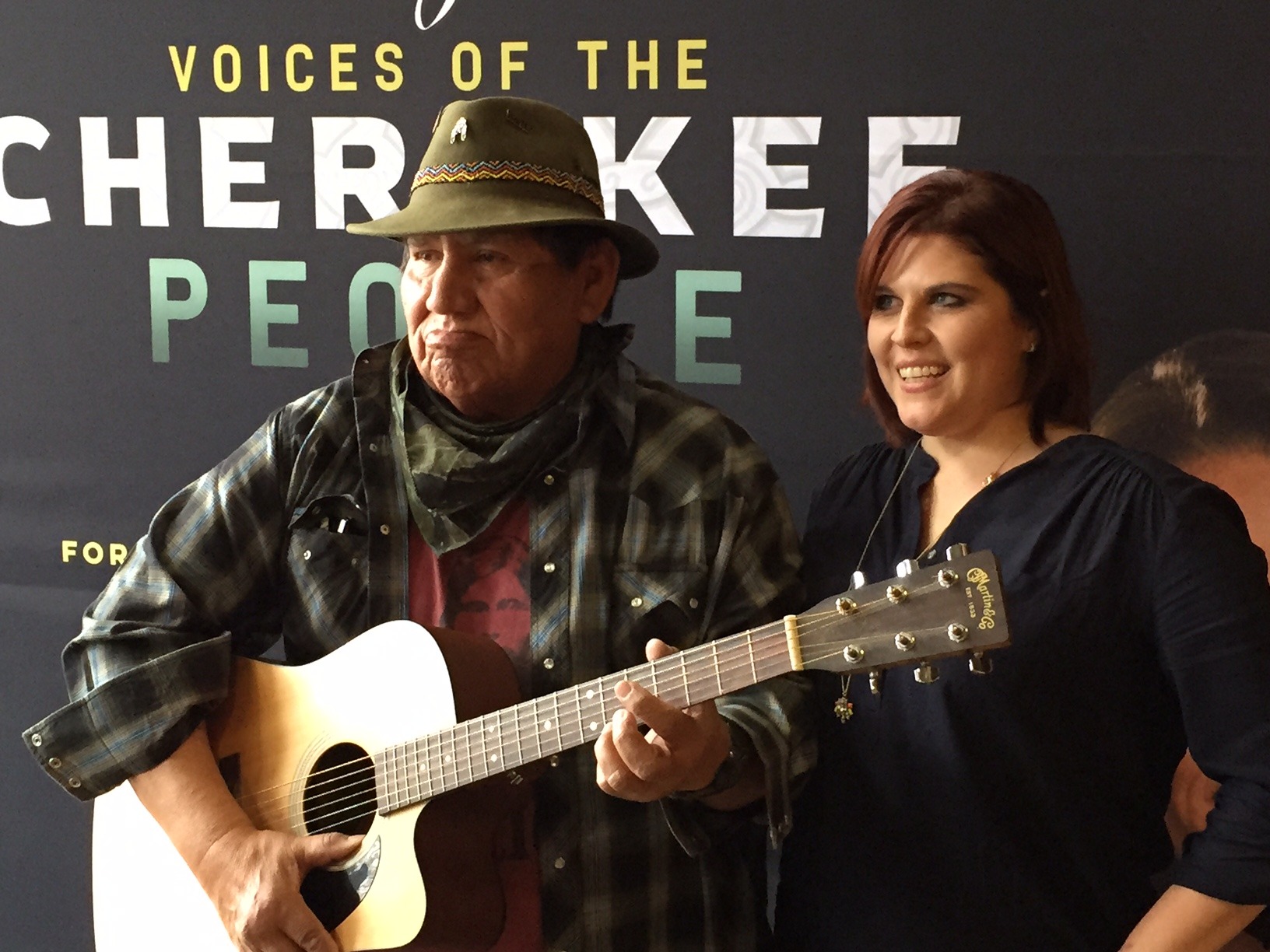 OsiyoTV Creator Amanda Clinton with musician Jesse Nighthawk at the Tulsa screening at Circle Cinema. Nighthawk's song, The Ballad of Ned Christy, was in Episode one.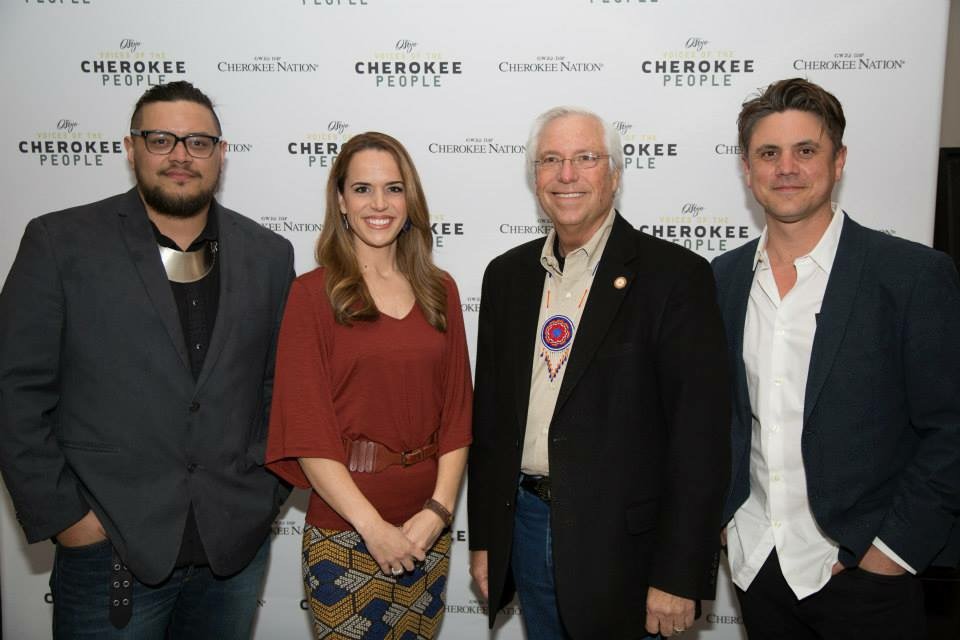 Producer/Director Sterlin Harjo, Executive Producer/Host Jennifer Loren, Principal Chief Bill John Baker, Producer/Director Jeremy Charles at the Tahlequah screening of OsiyoTV.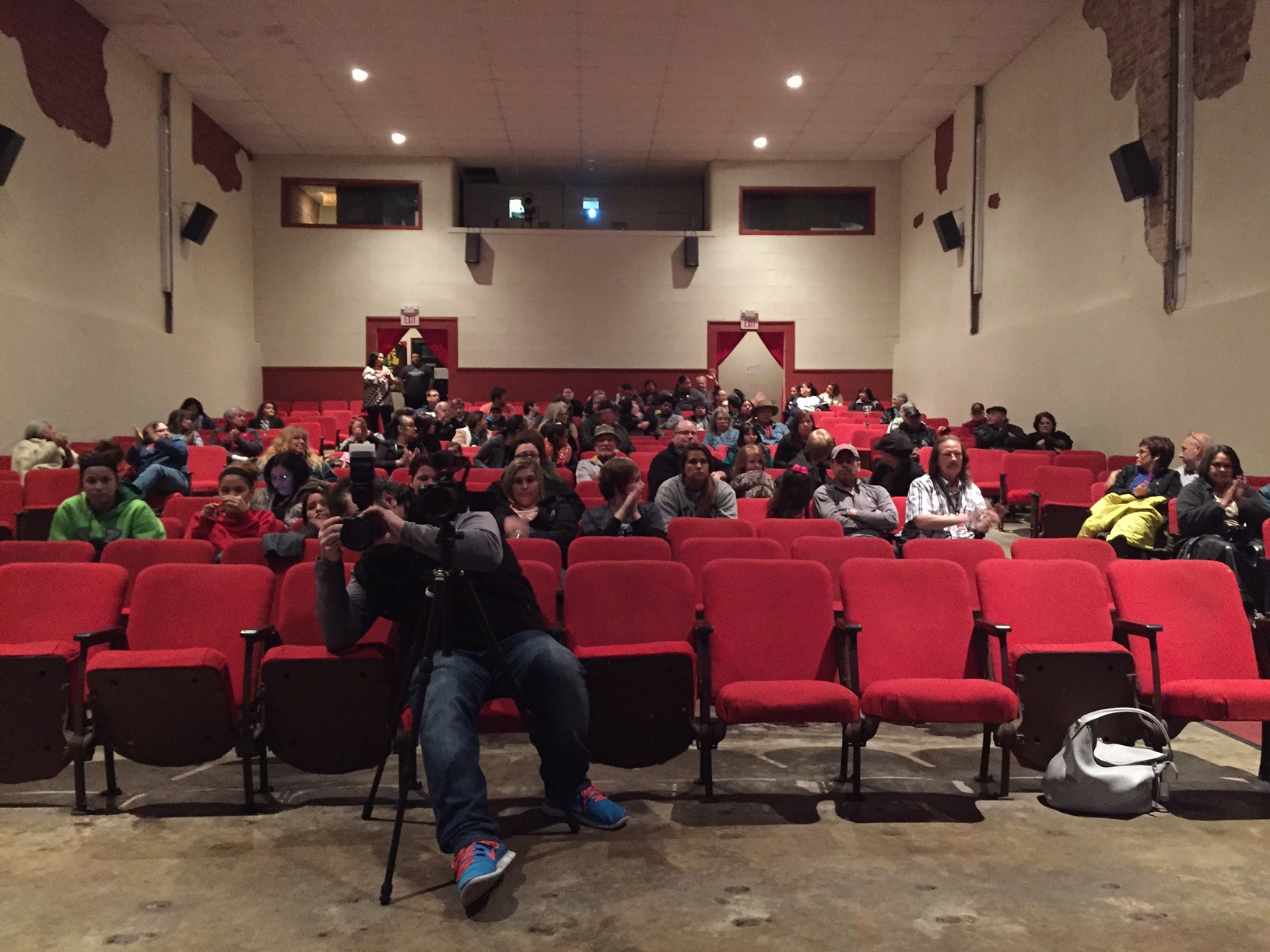 Our view during the Q and A session after the Tahlequah screening in The Dream Theater.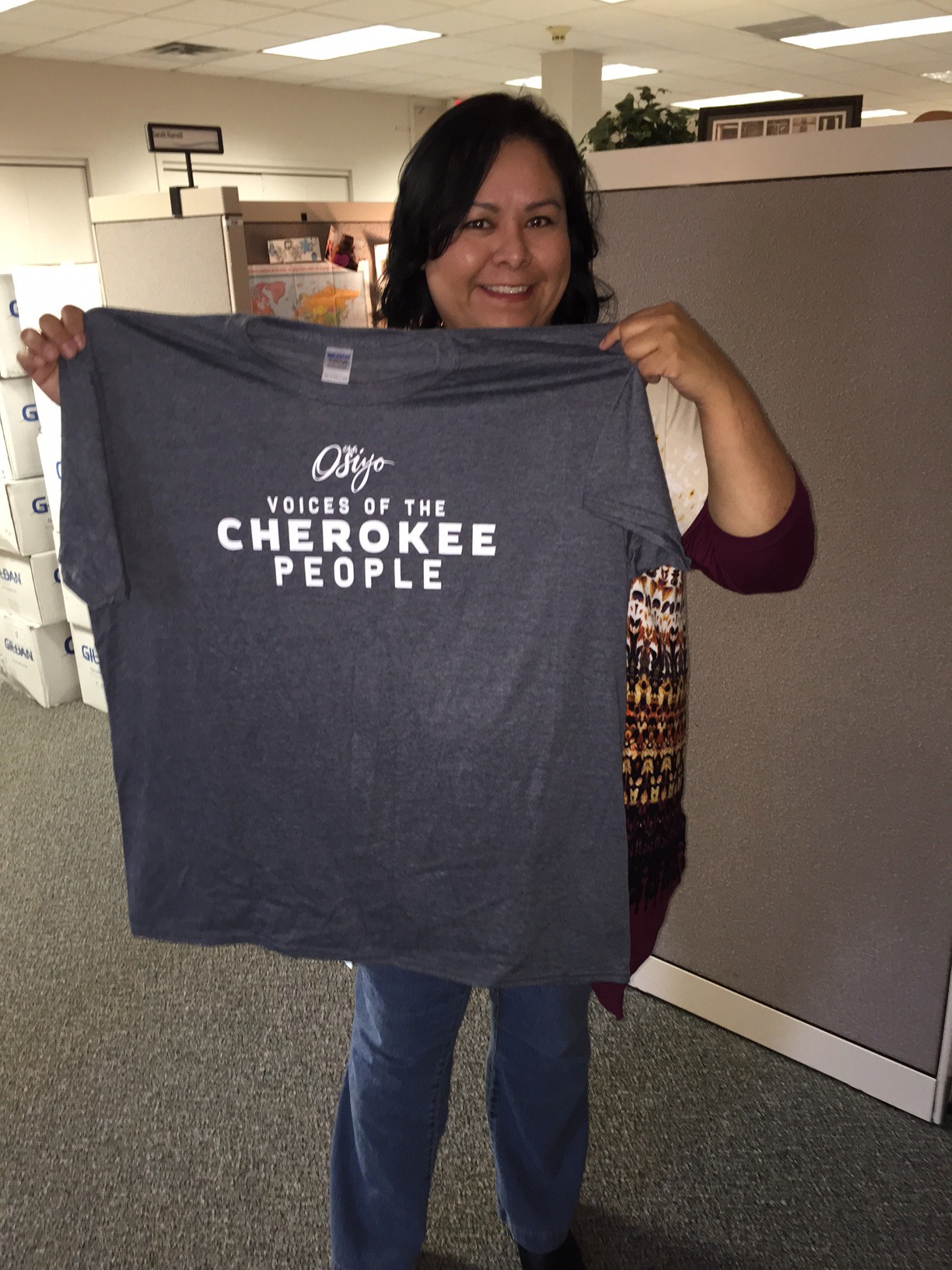 Our project manager, Karen Shade, showing off the T-shirts we gave away at our public screenings. They will be available to buy soon!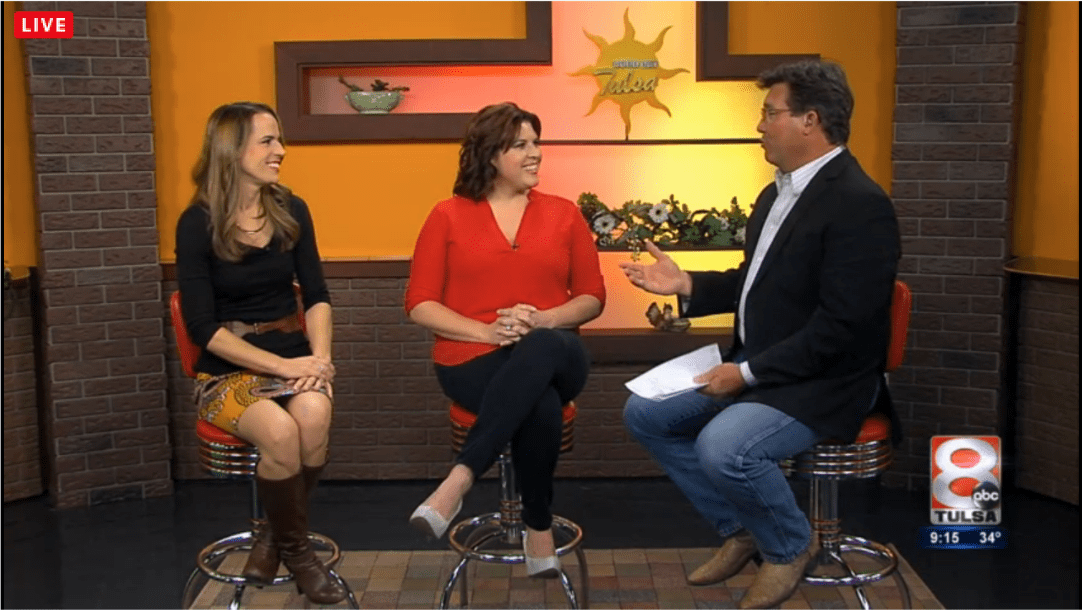 Jennifer and VP of Cherokee Nation Communications, Amanda Clinton, talking about OsiyoTV on Good Day Tulsa on News Channel 8.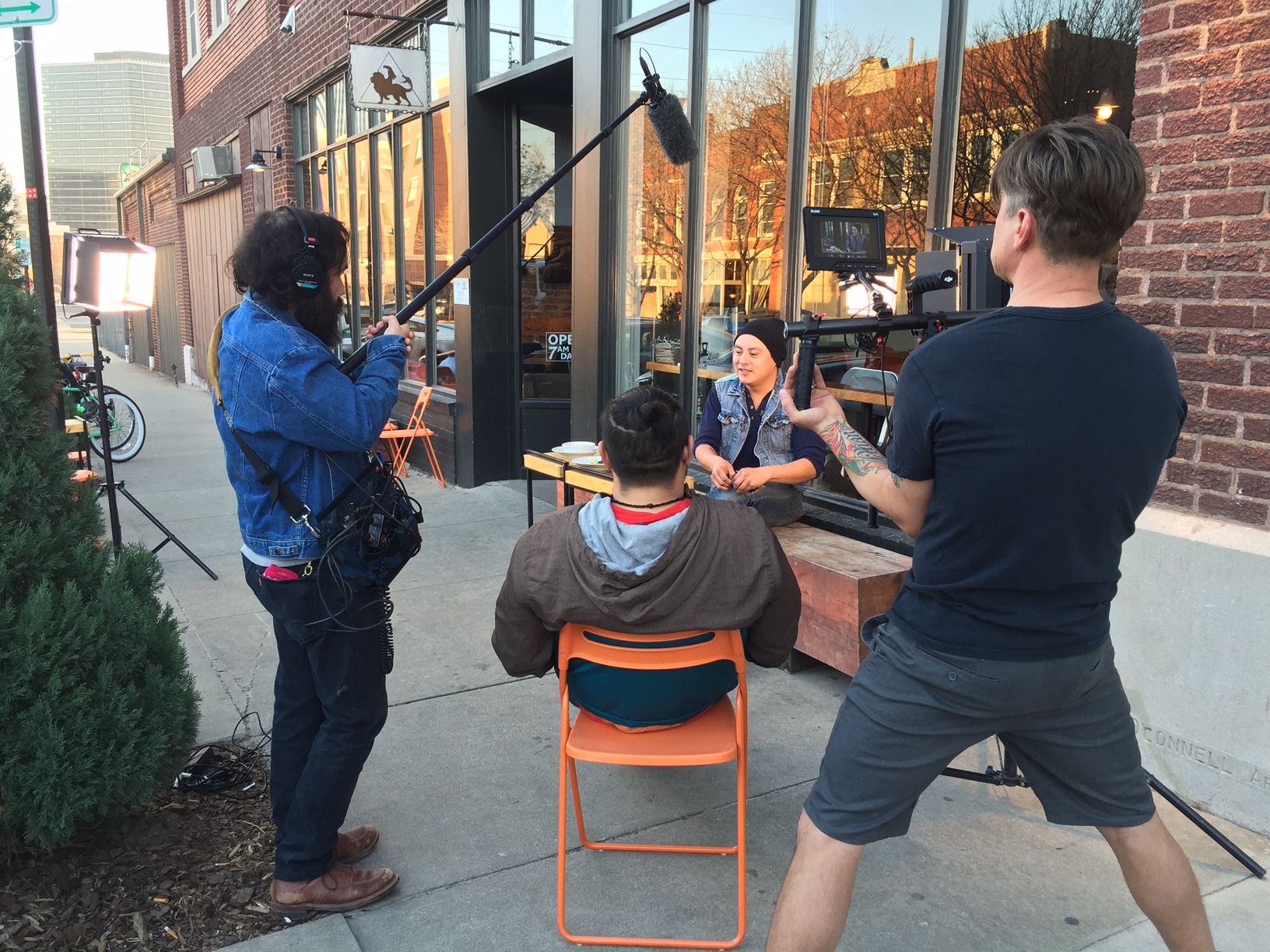 Interviewing Chimera's head chef, Bradley Dry, outside the restaurant on a sunny February day.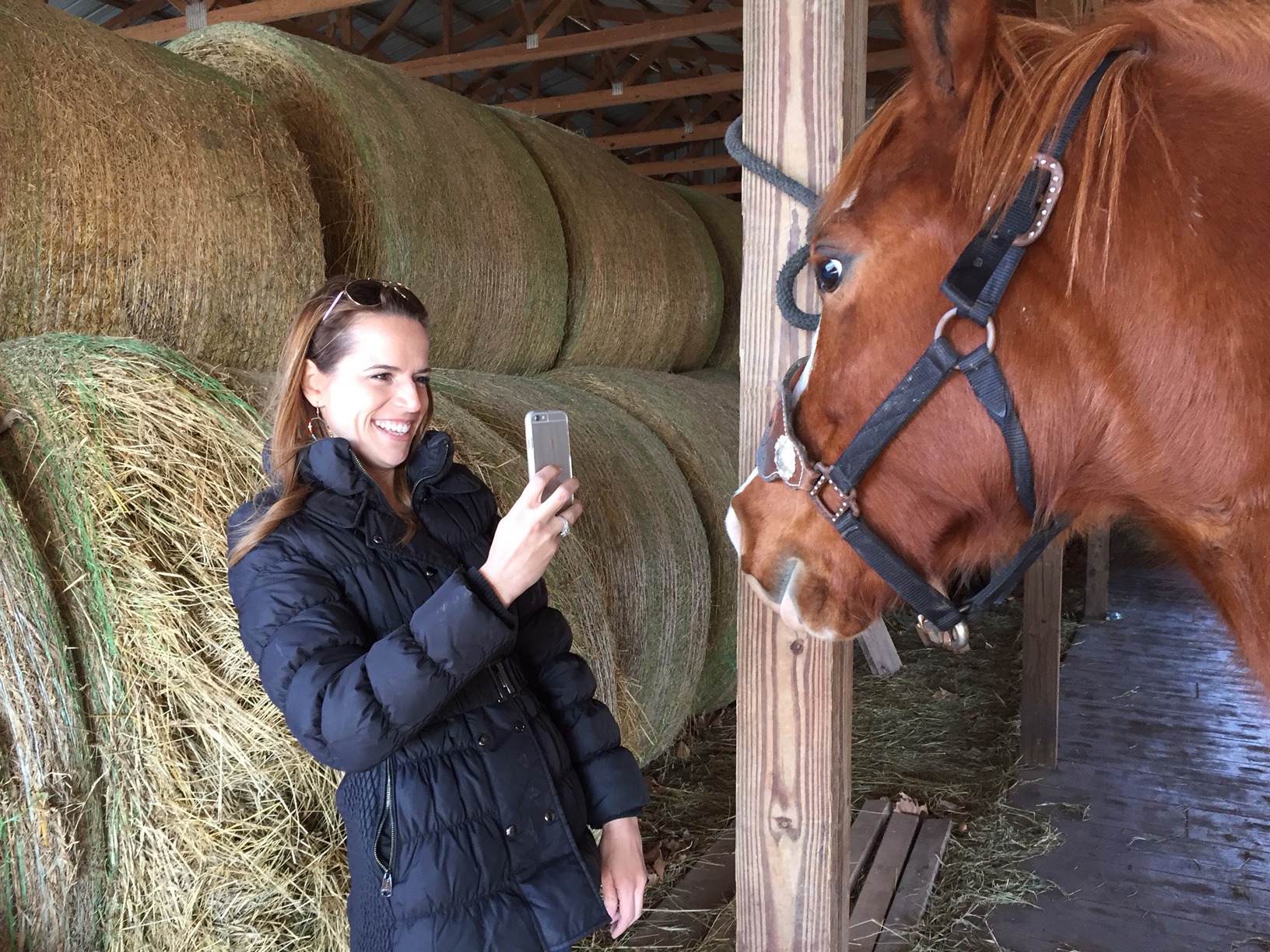 Ryan's horse, Daisy, wasn¹t too sure about Jennifer at first. But she warmed up to her once they got to know each other better. We hear she's a great roping horse!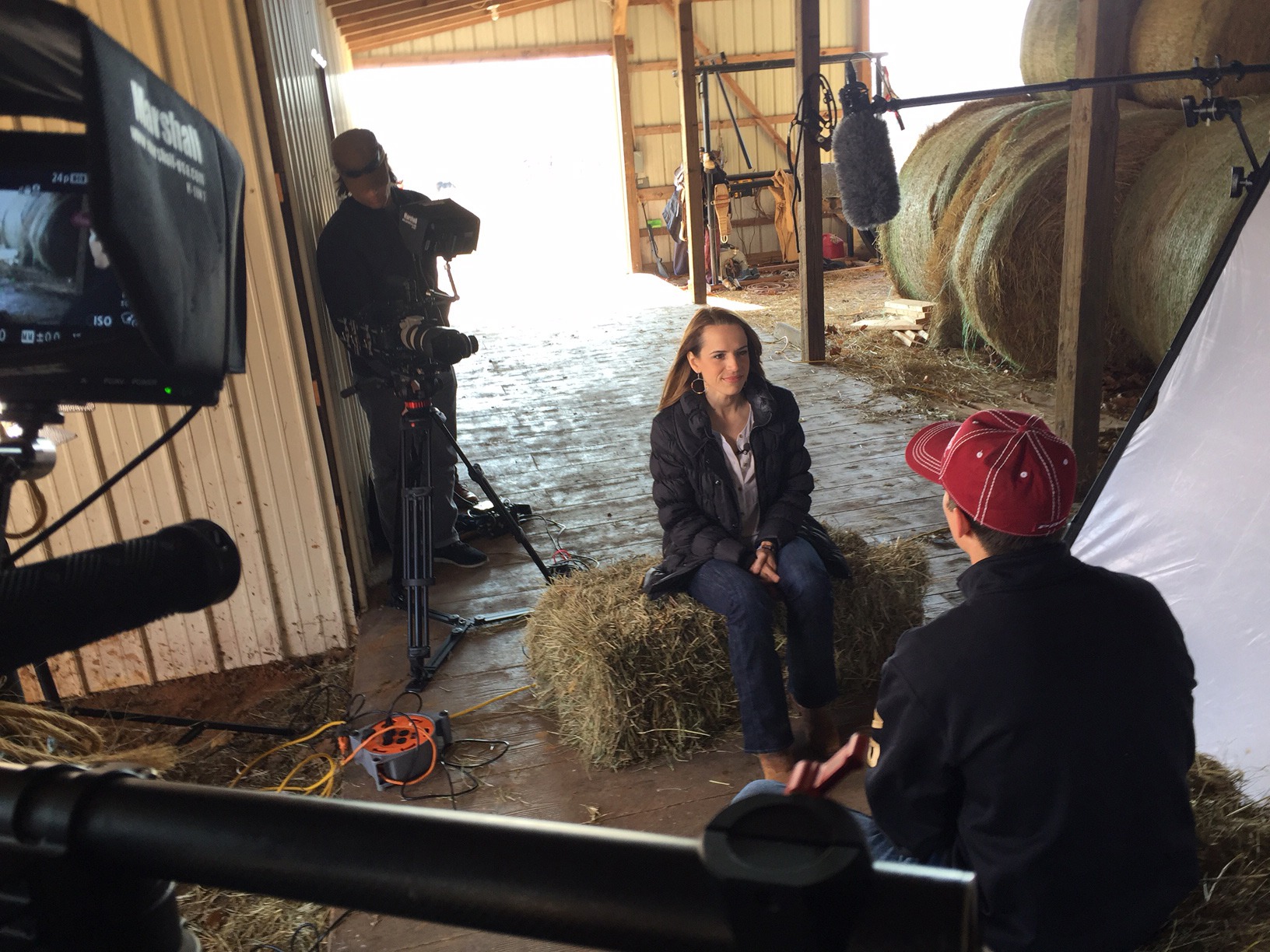 The barn at Ryan Dirteater's ranch was a natural winner for our interview location.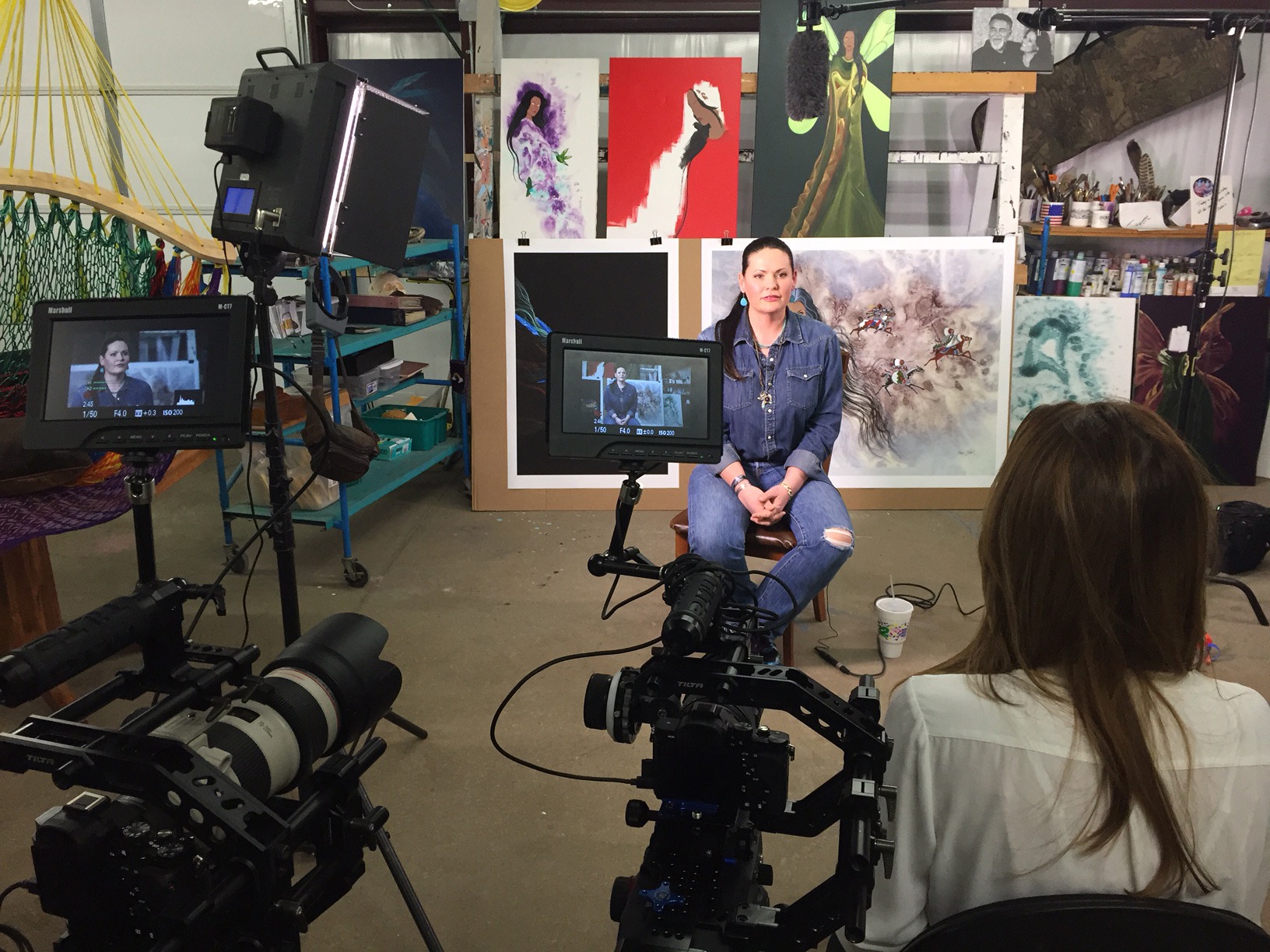 We could feel the creativity flowing in the Rabbit Studios.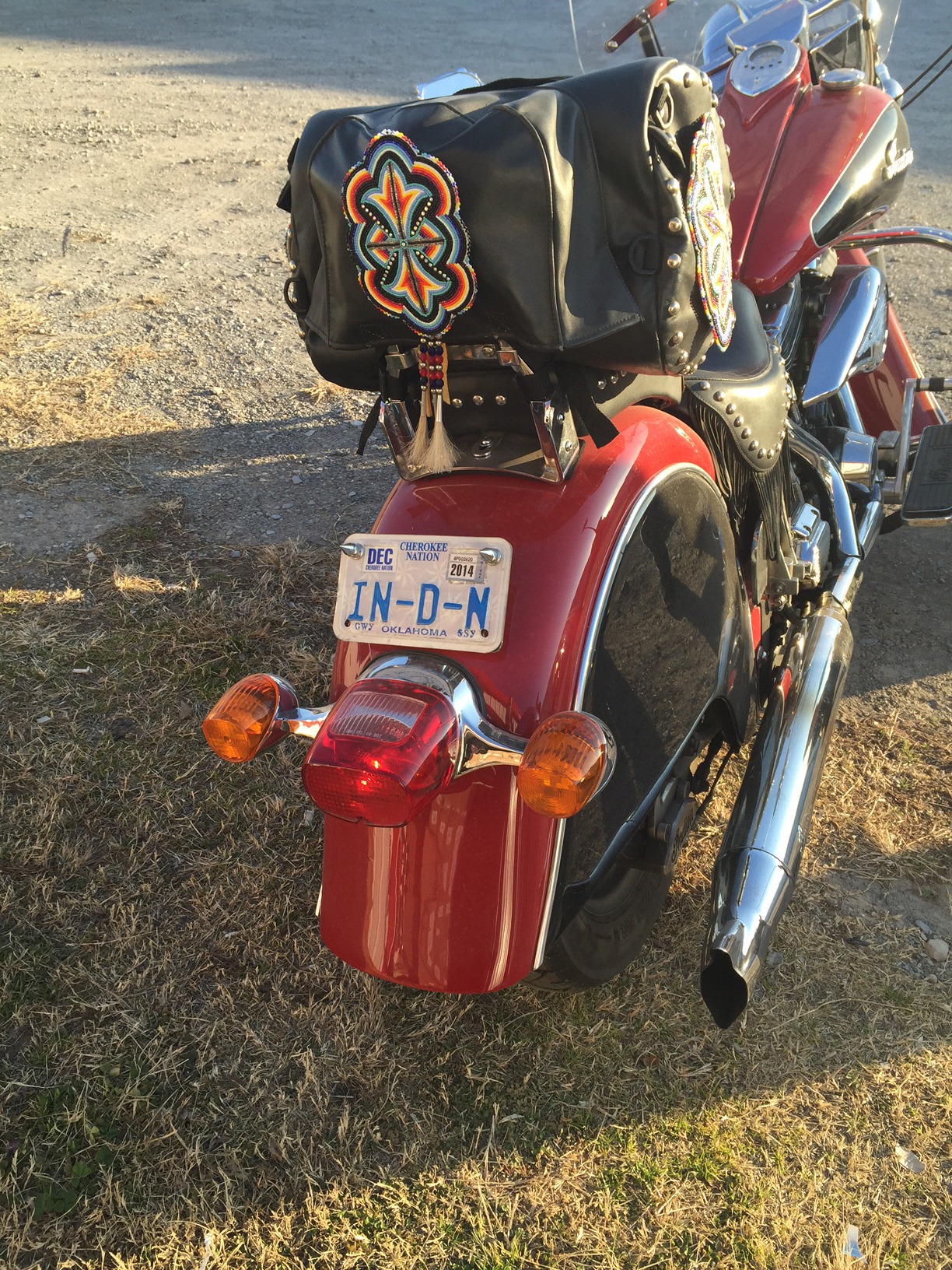 Don't you love Traci Rabbit's motorcycle and tag?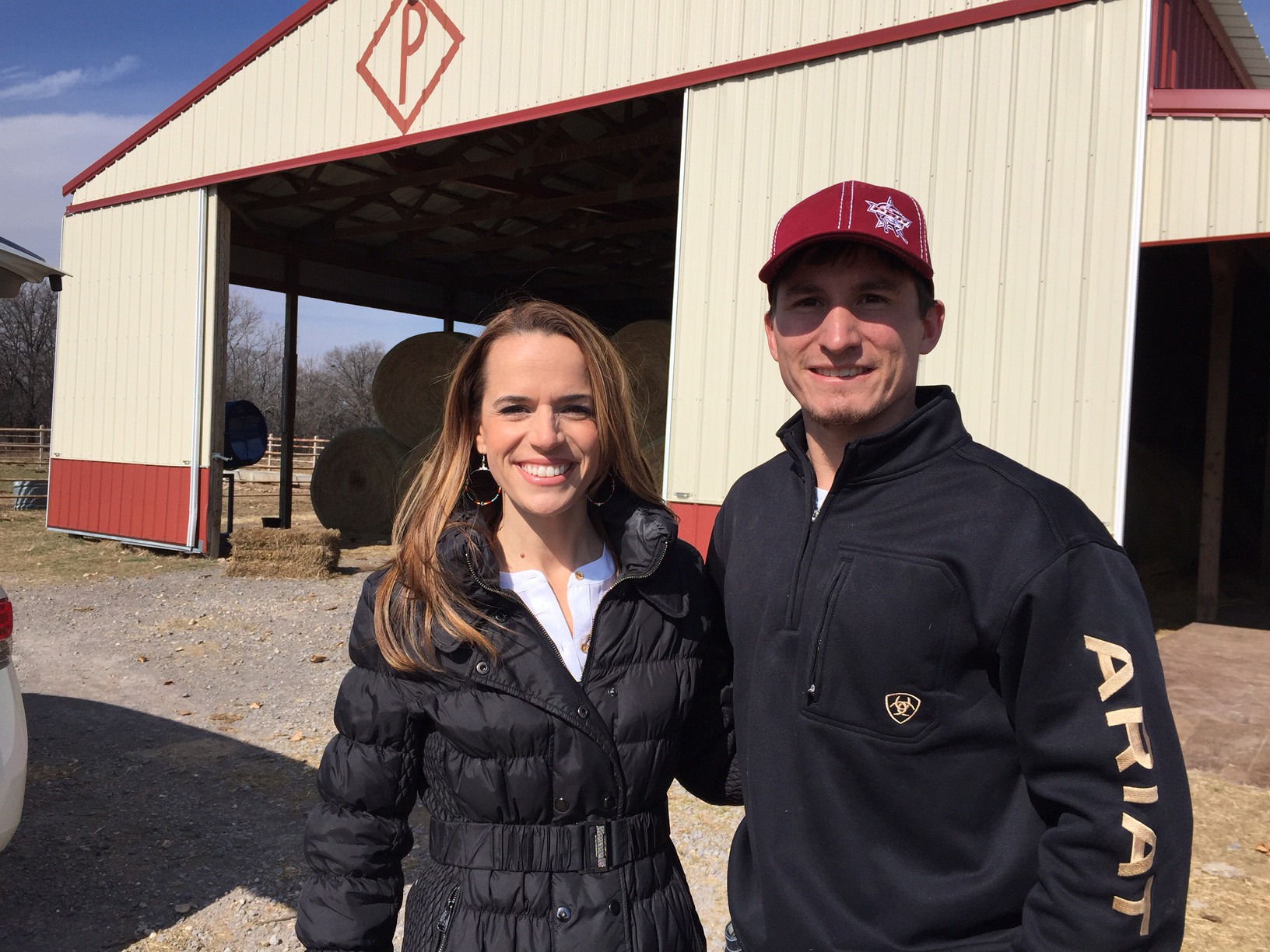 We had a great time hanging out with Ryan Dirteater on his beautiful ranch. He's a really nice guy.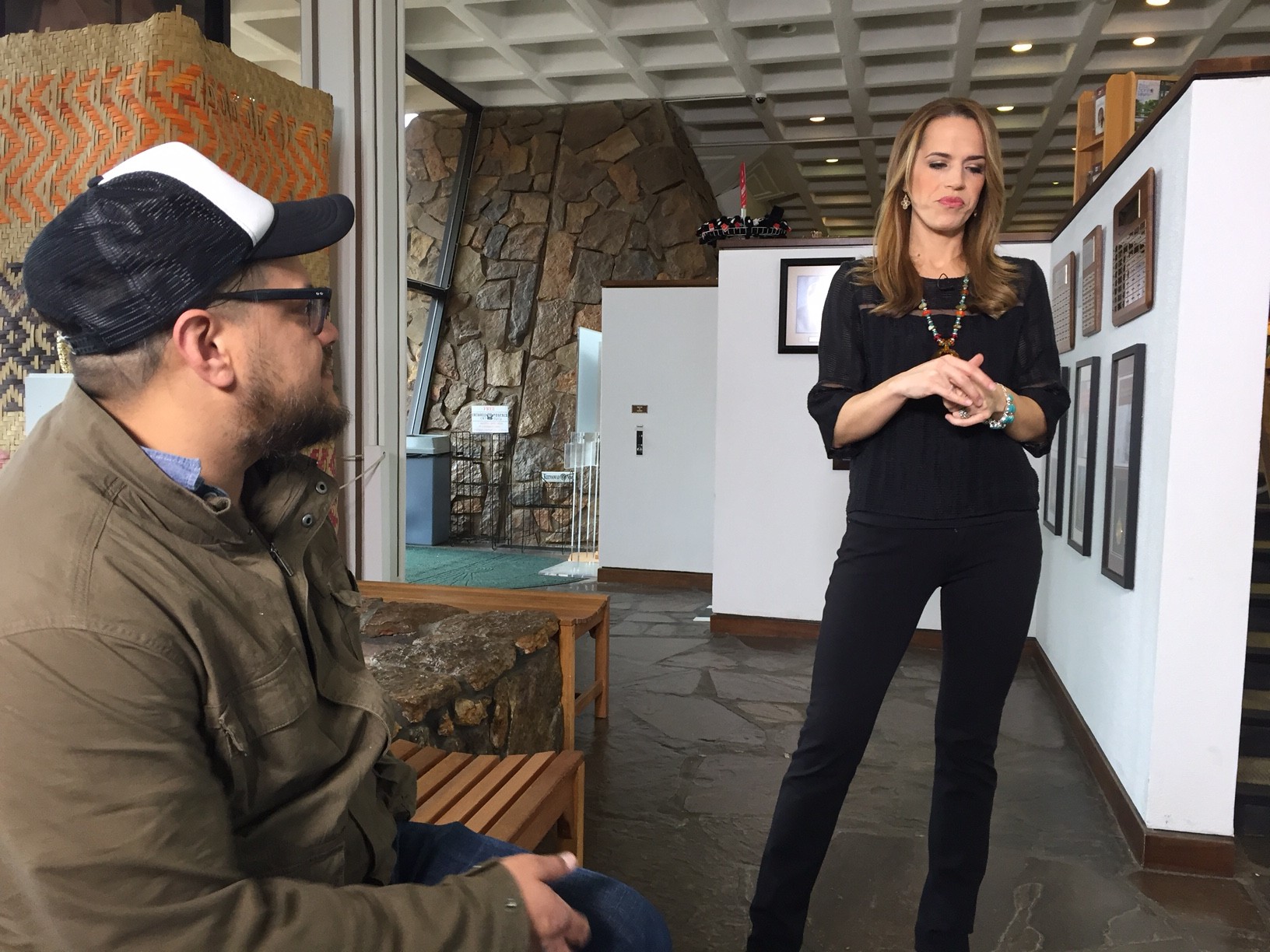 Host Jennifer Loren and Producer/Director Sterlin Harjo going over Jennifer's lines.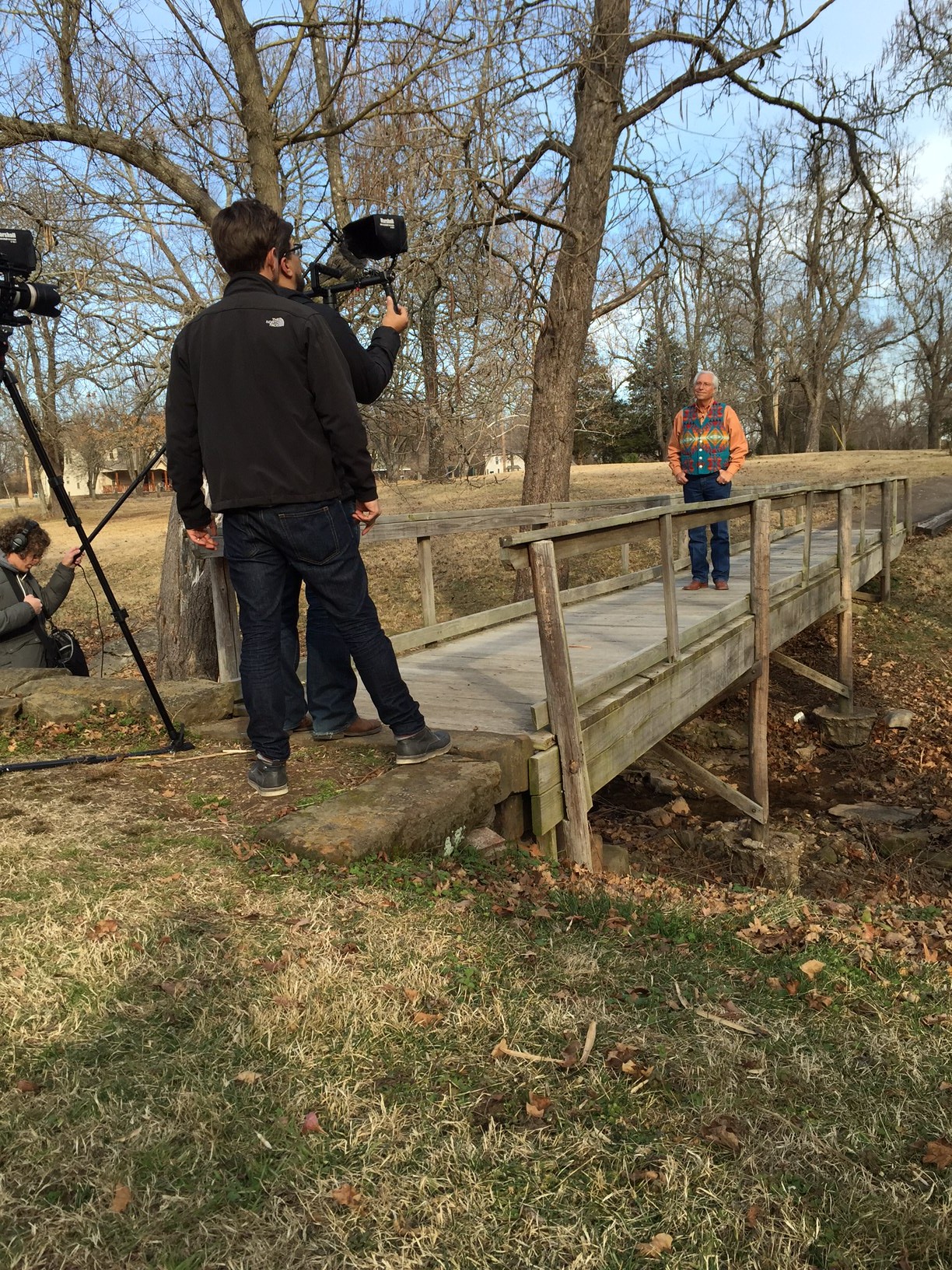 Recording Chief Bill John Baker's welcome message!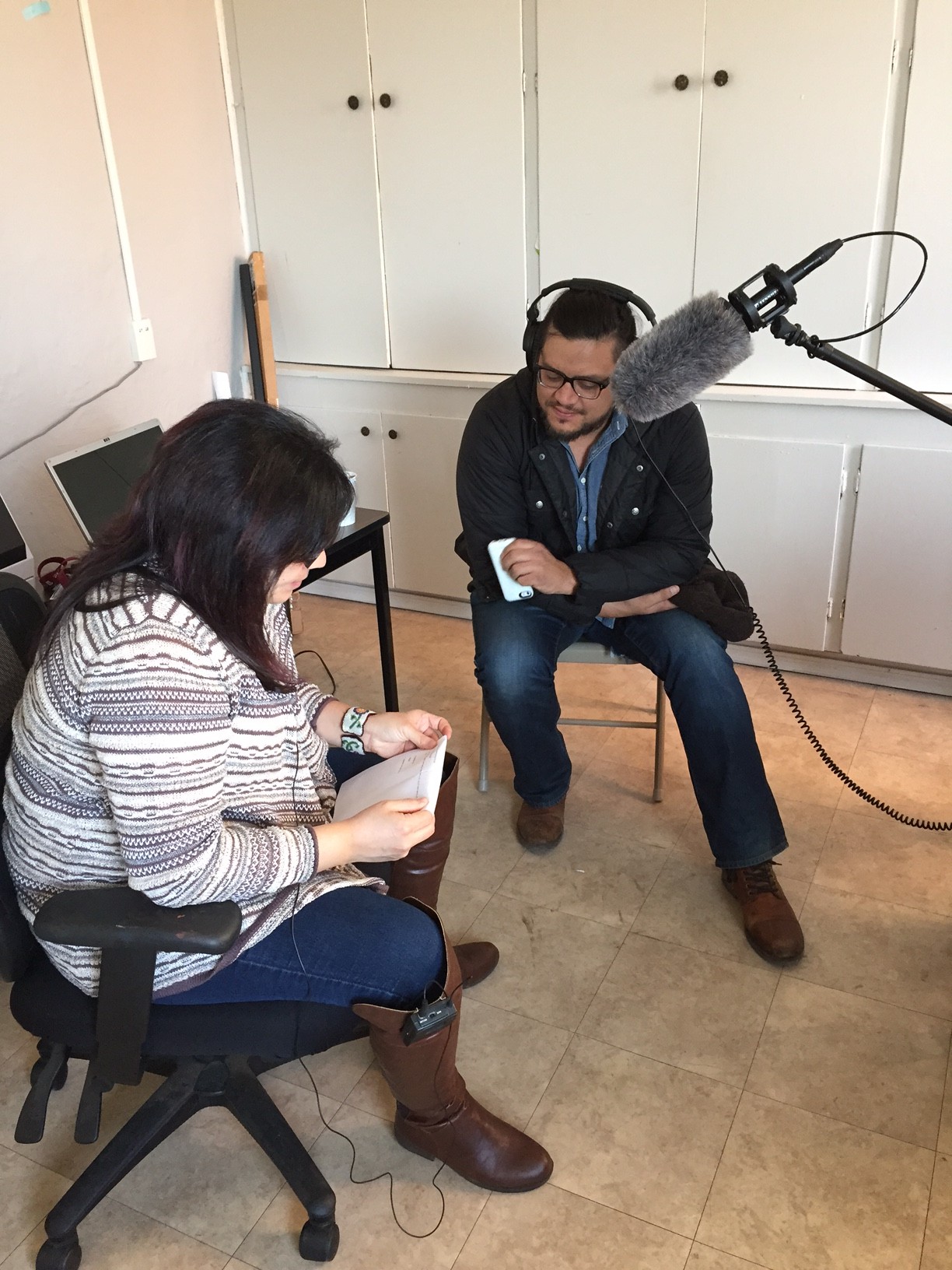 Candessa Teehee voicing "Let's Talk Cherokee" segment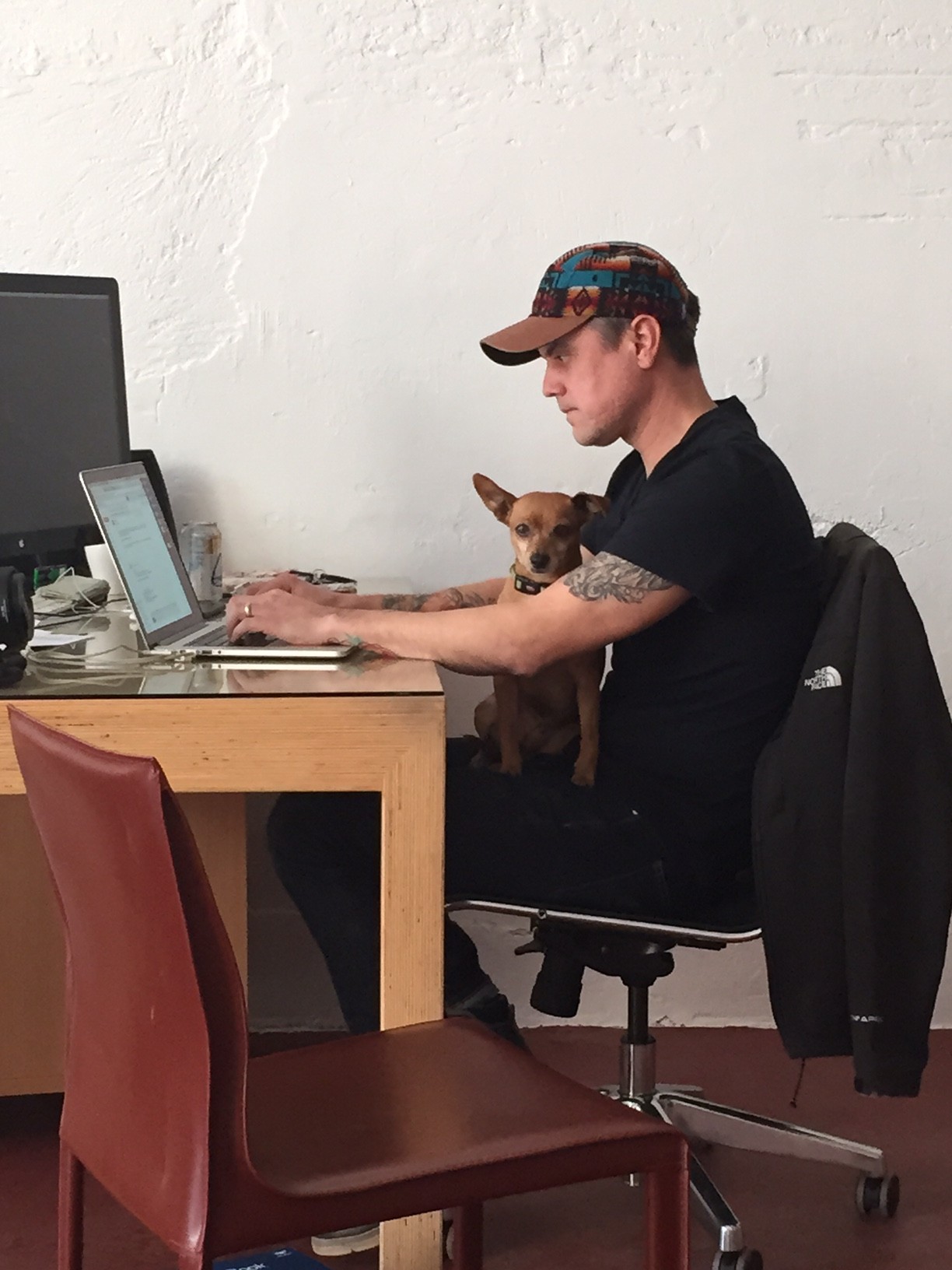 Producer/Director Jeremy Charles gets a little help from Penny the dog.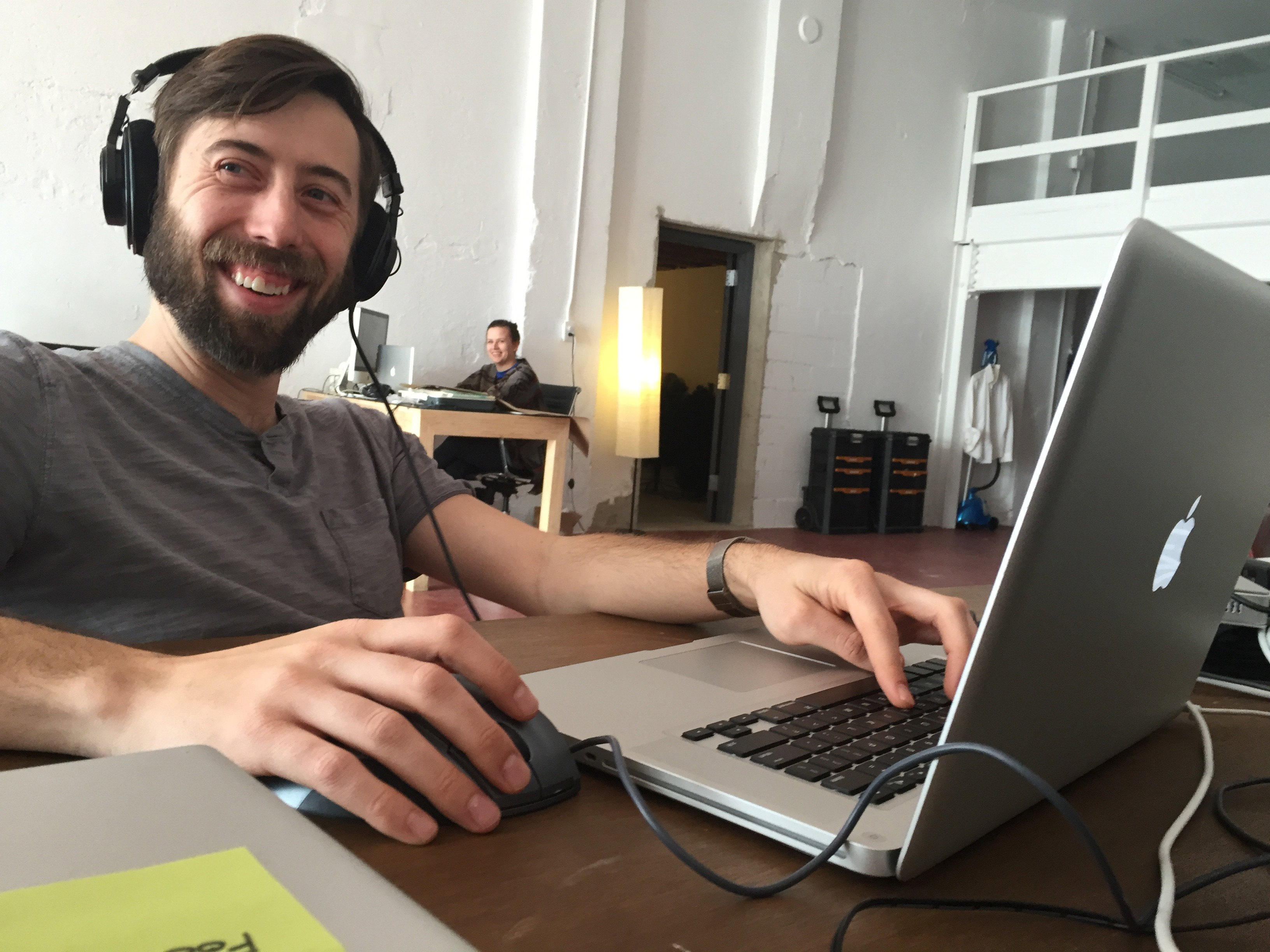 Editor Matt Leach puts the finishing touches on episode 1!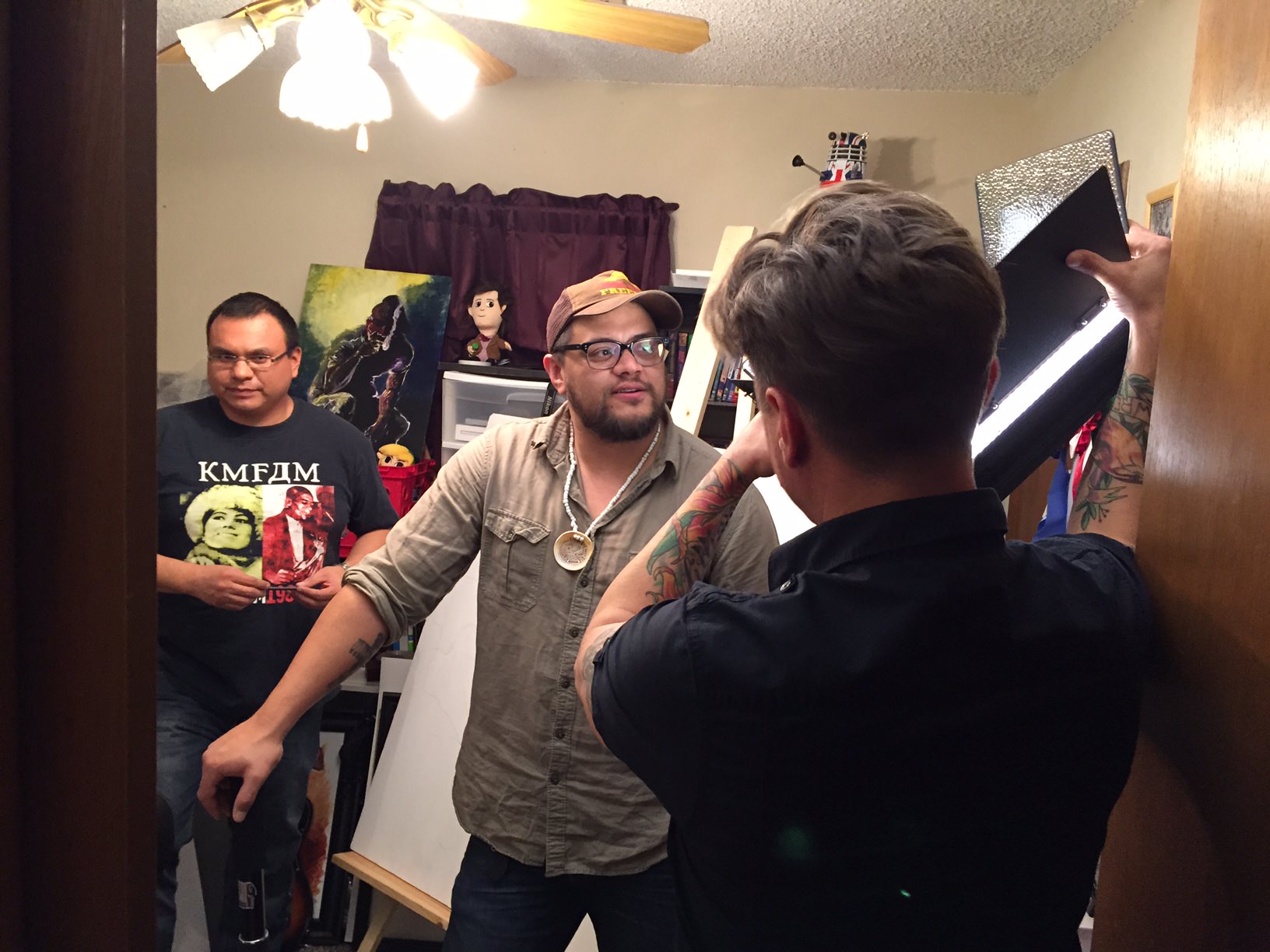 We sometimes have to work in tight spaces.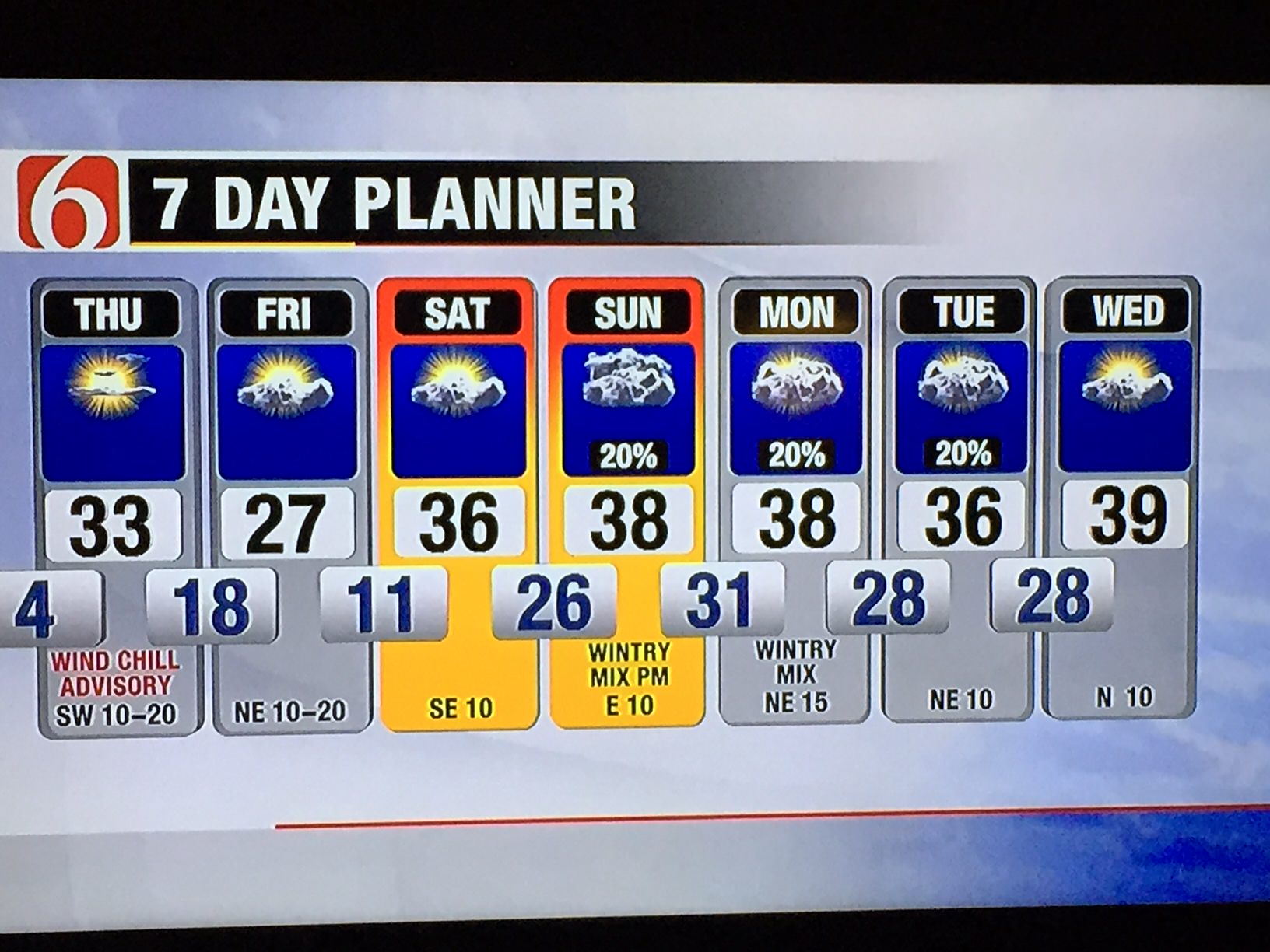 We shot our video in some brutal temperatures.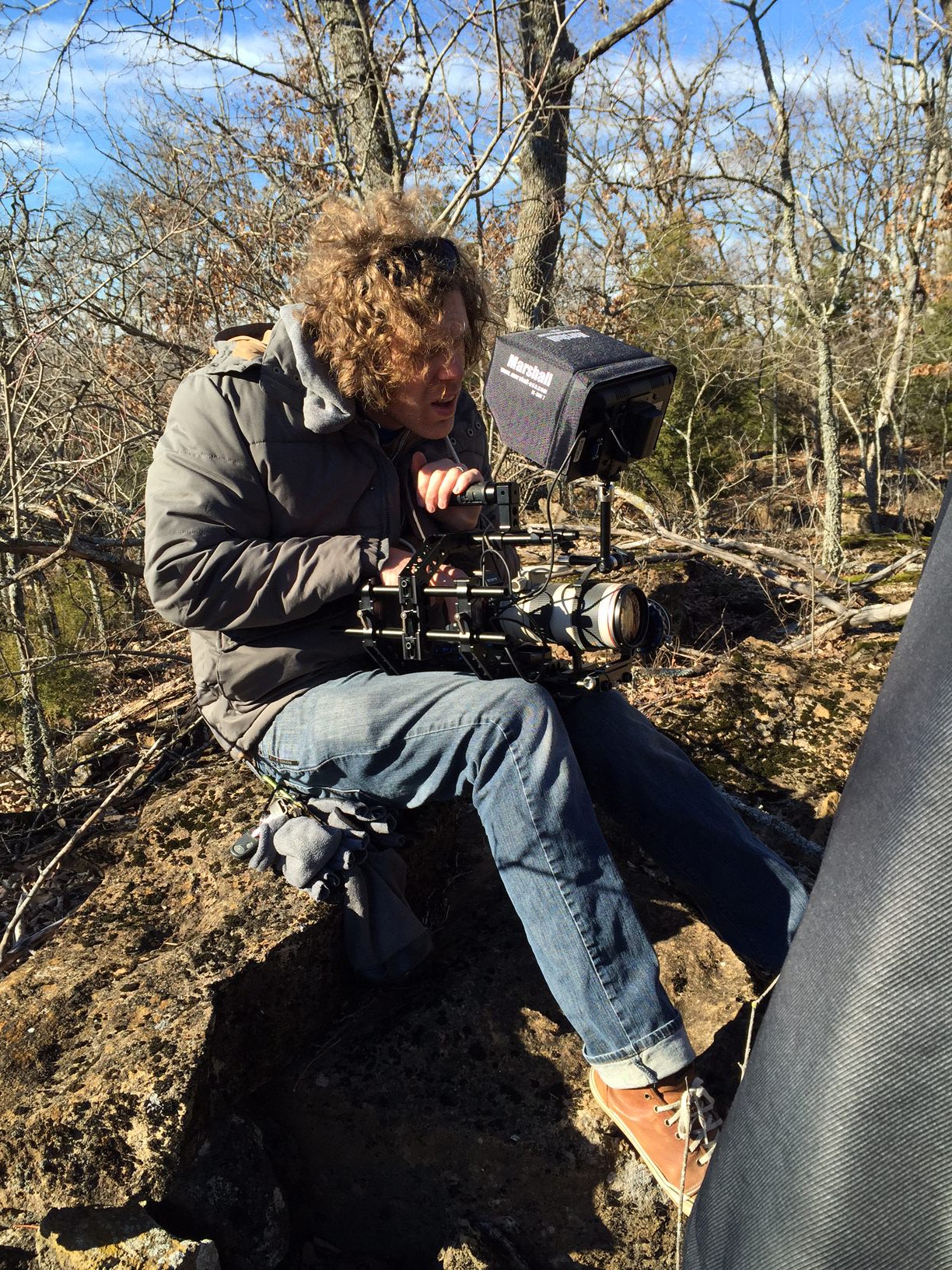 Travis has a seat at Ned Christie's lookout.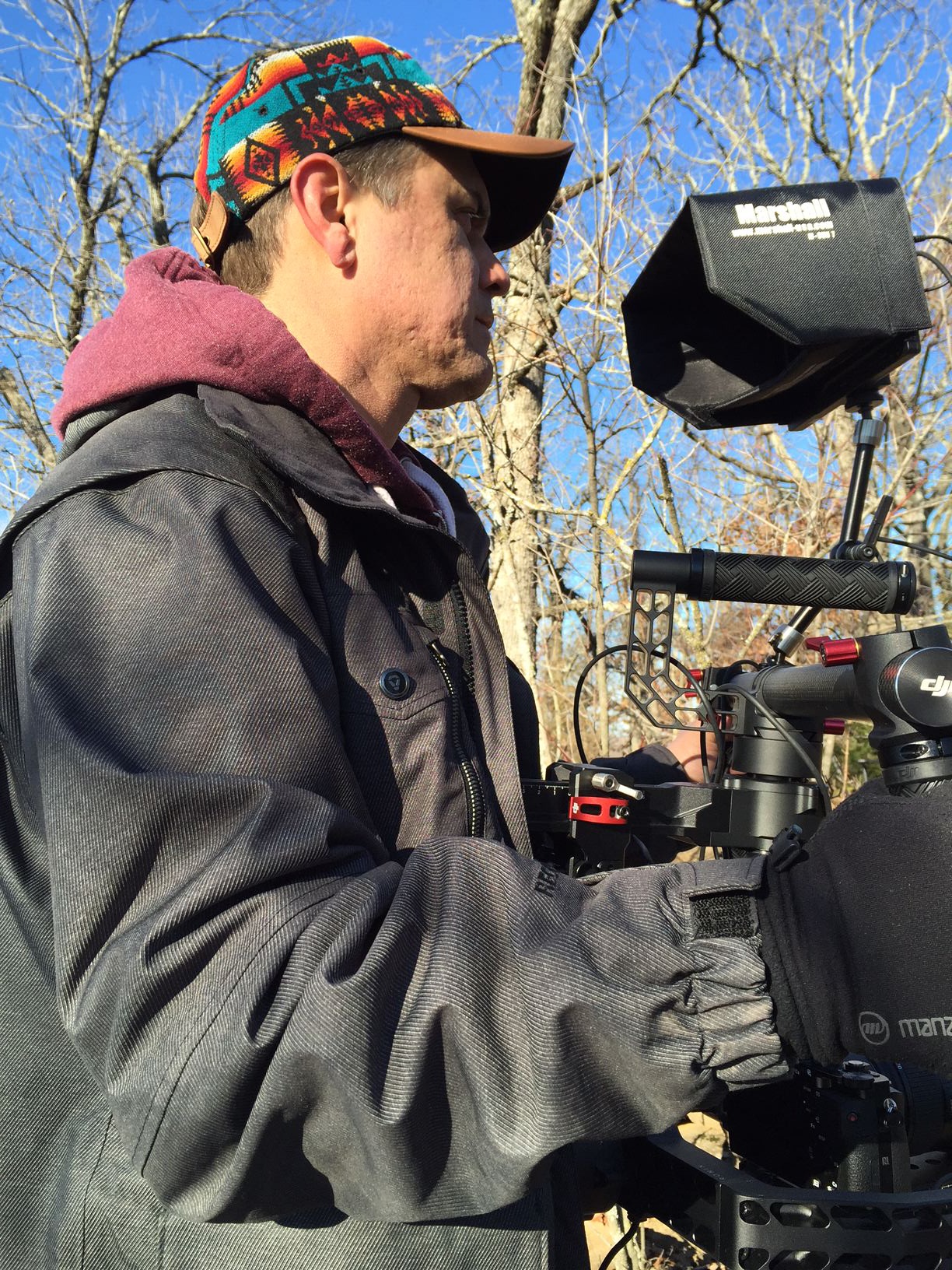 This camera is heavier than it looks.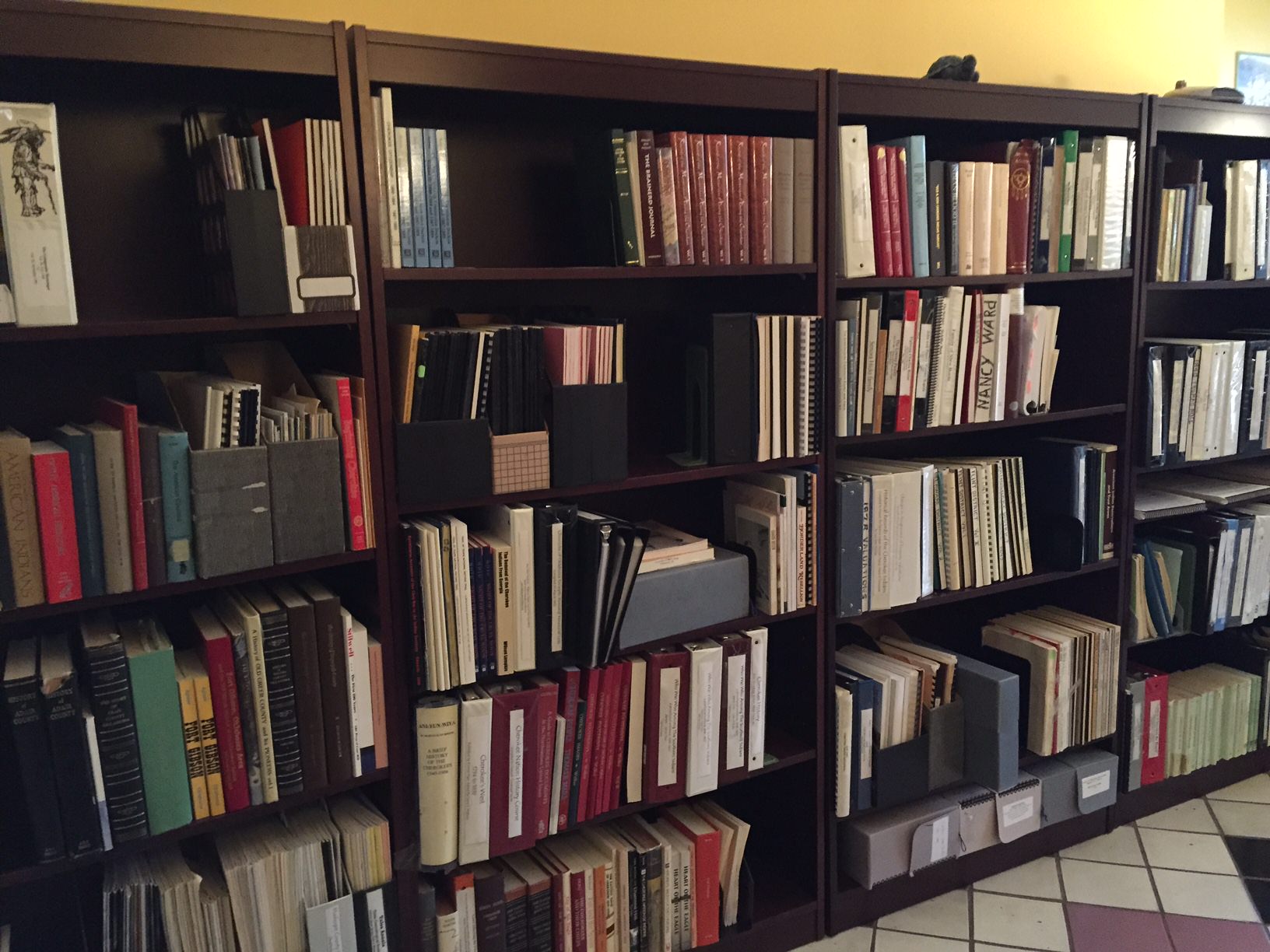 The Cherokee Heritage Center's genealogy library.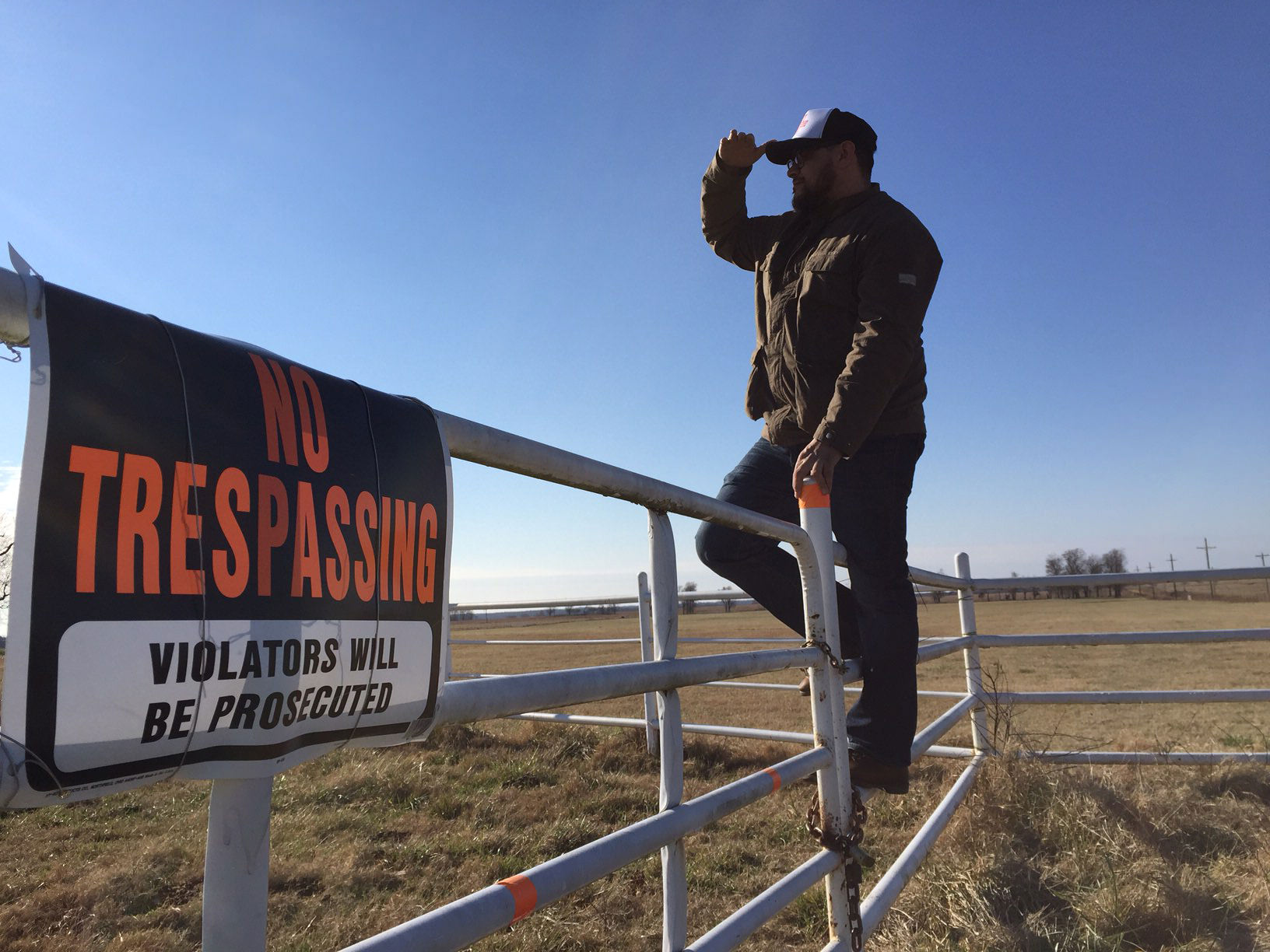 Sterlin surveying the land, to see what he wanted to shoot.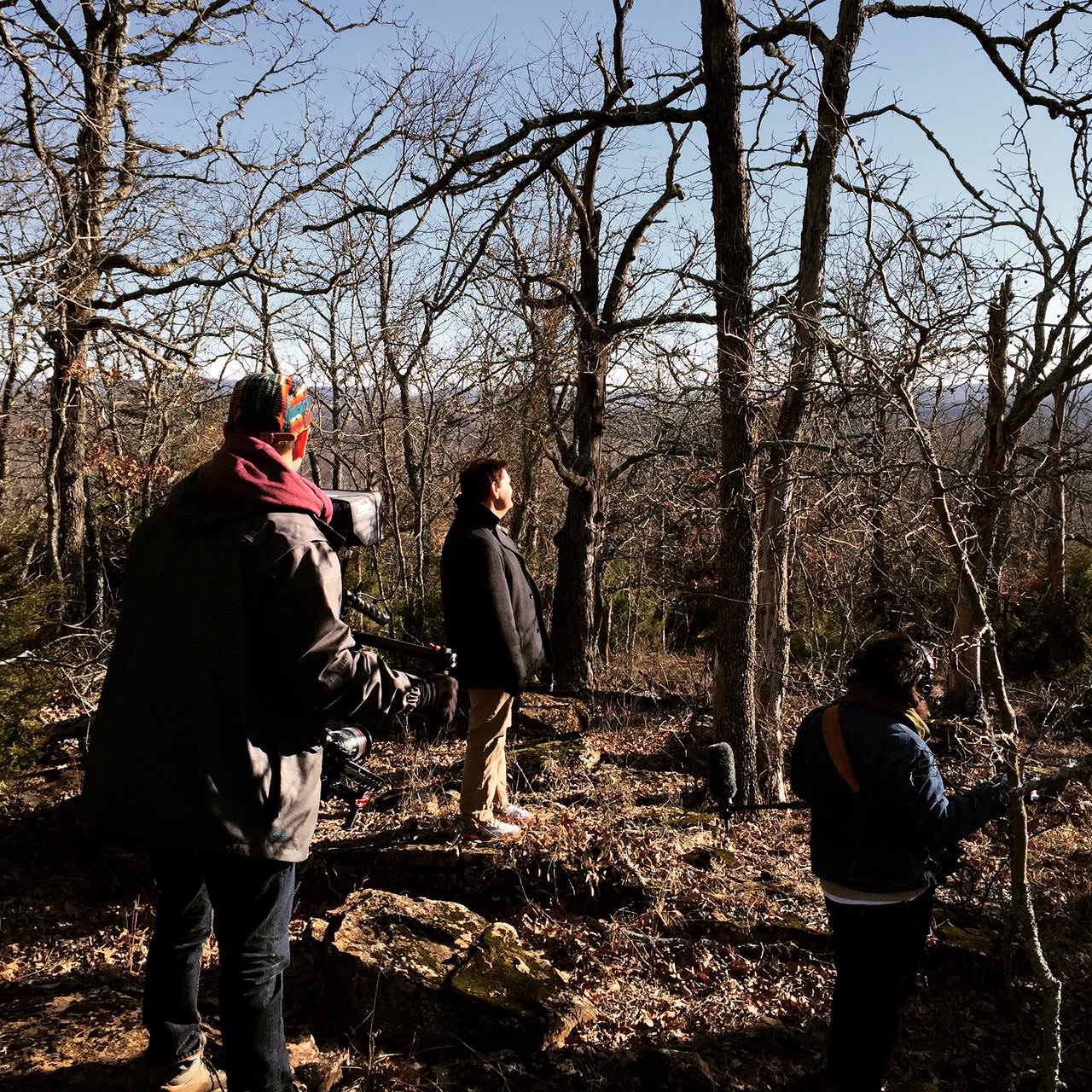 Quite a view from the hilltop in Wauhillau.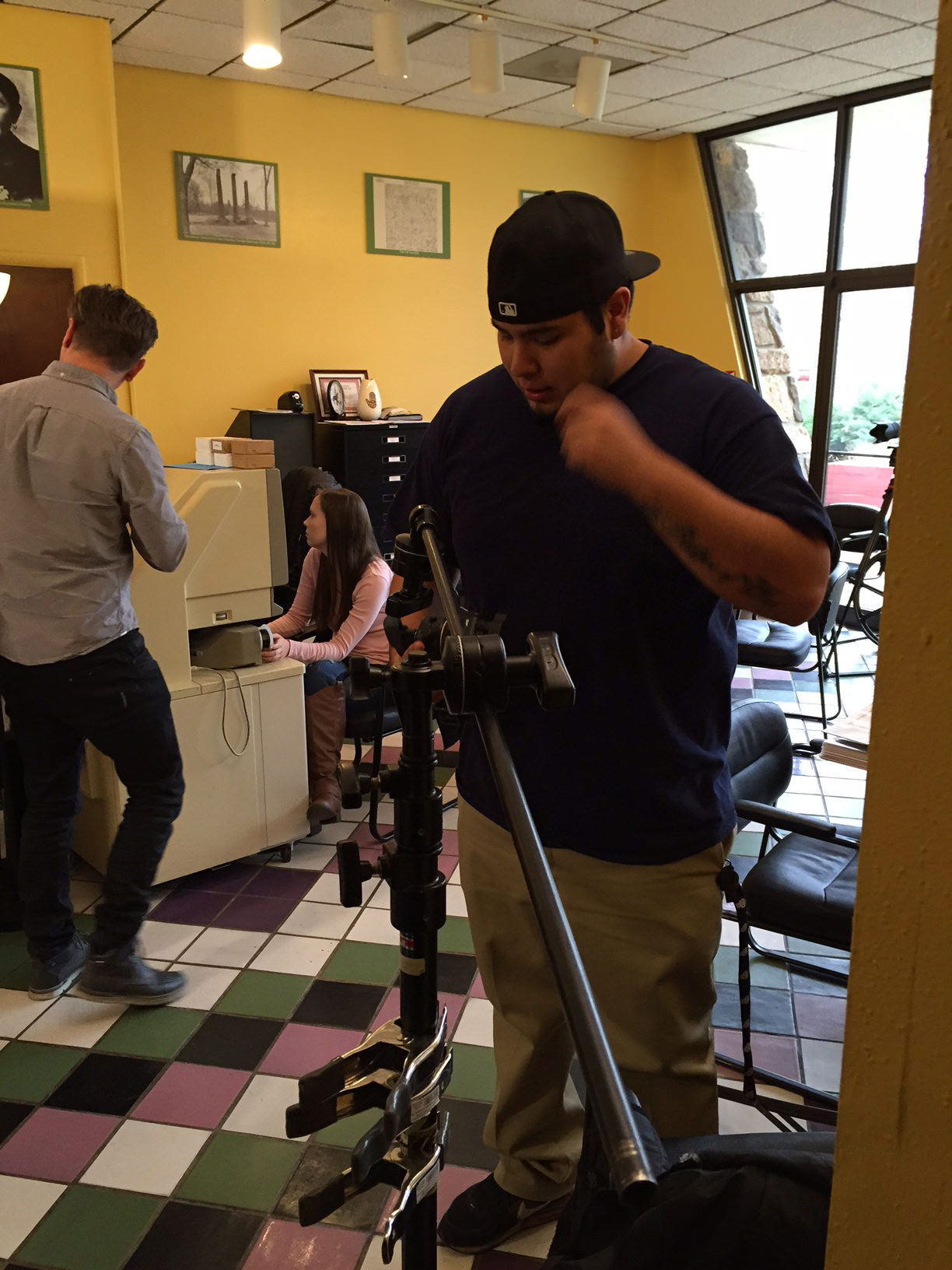 Production assistant Whitebird works on lighting.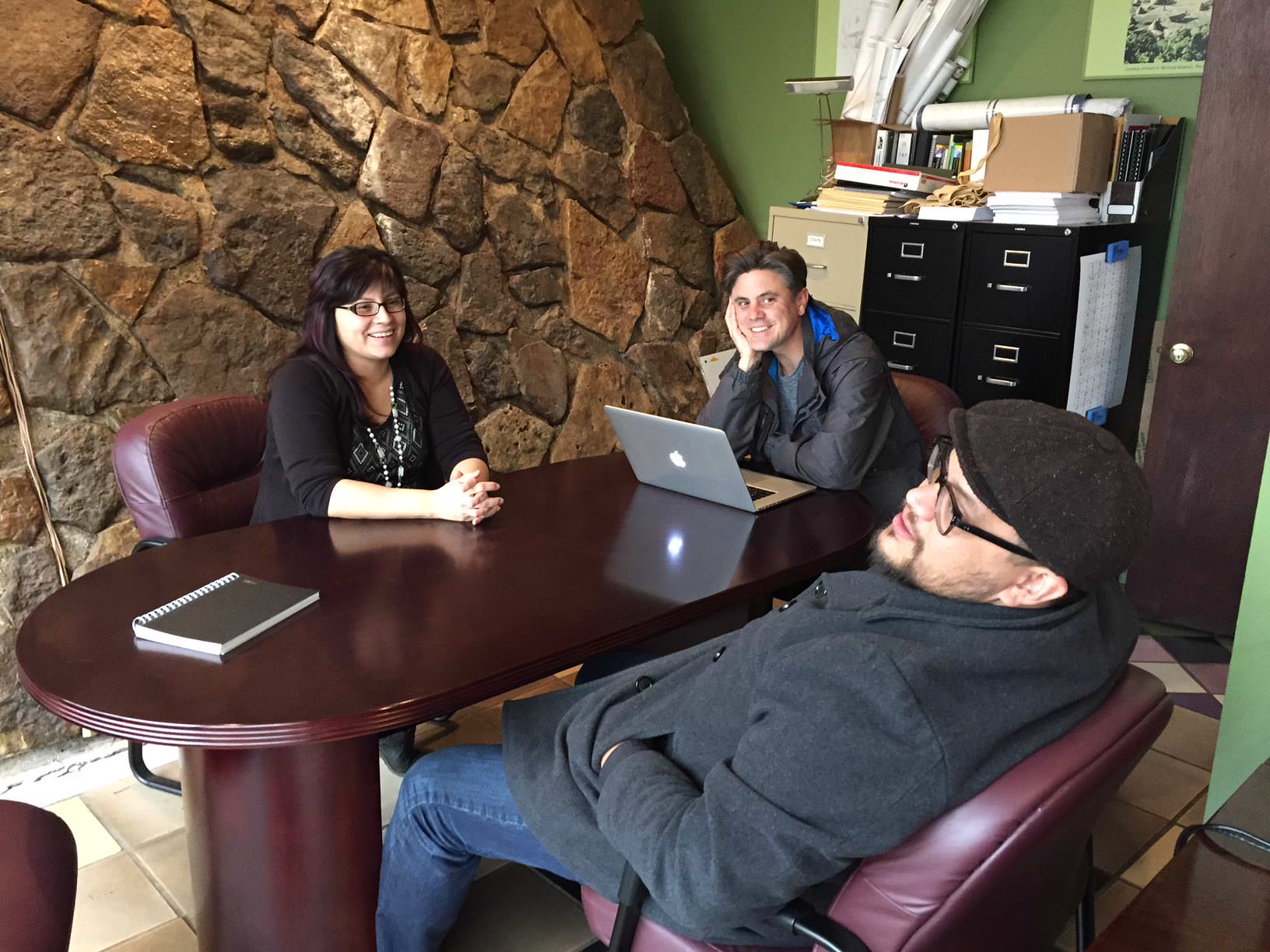 Meeting with Candessa Tehee, the Director of the Cherokee Heritage Center.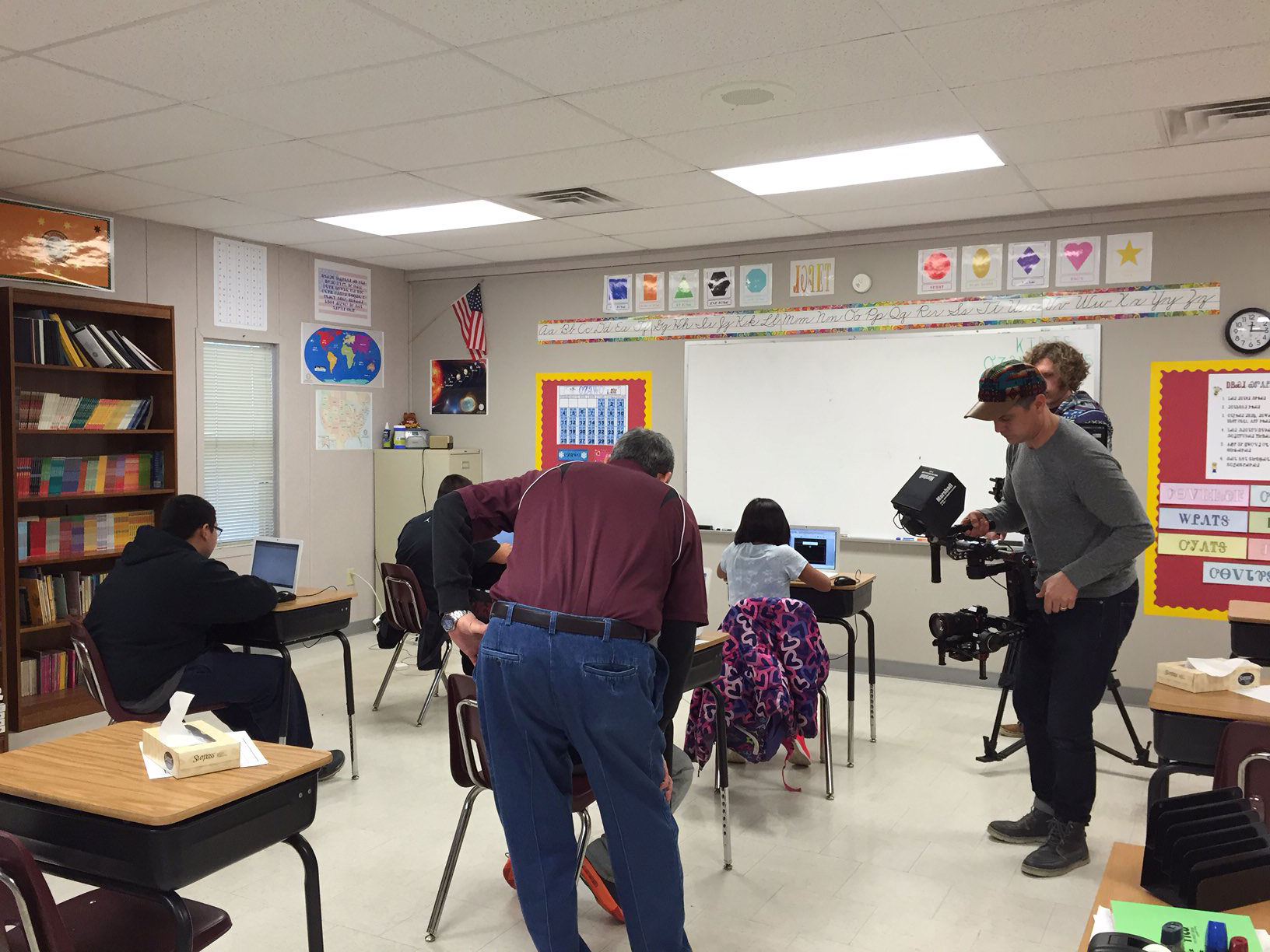 Kids in the immersion school, typing in Cherokee.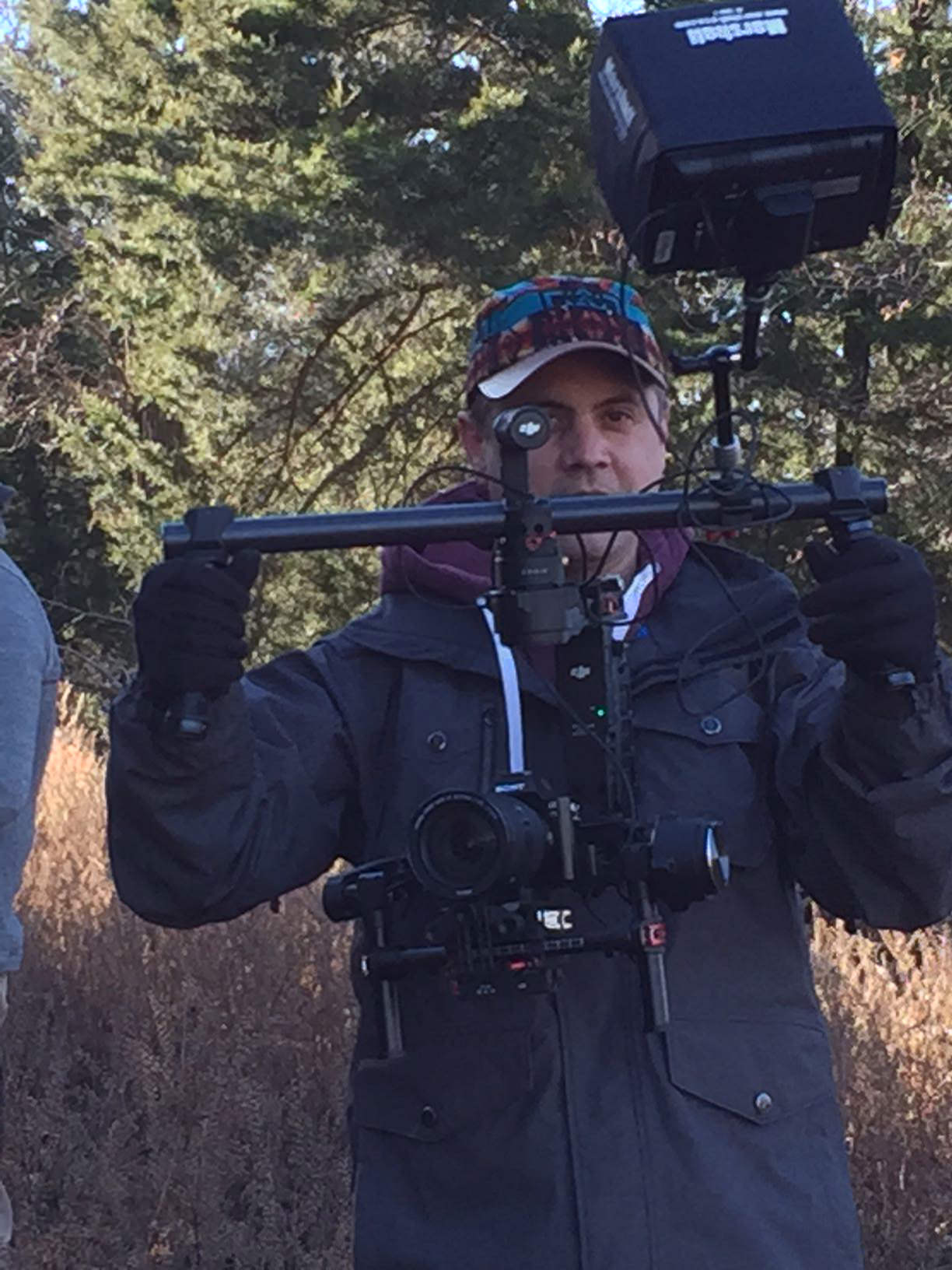 Jeremy loves his steadycam.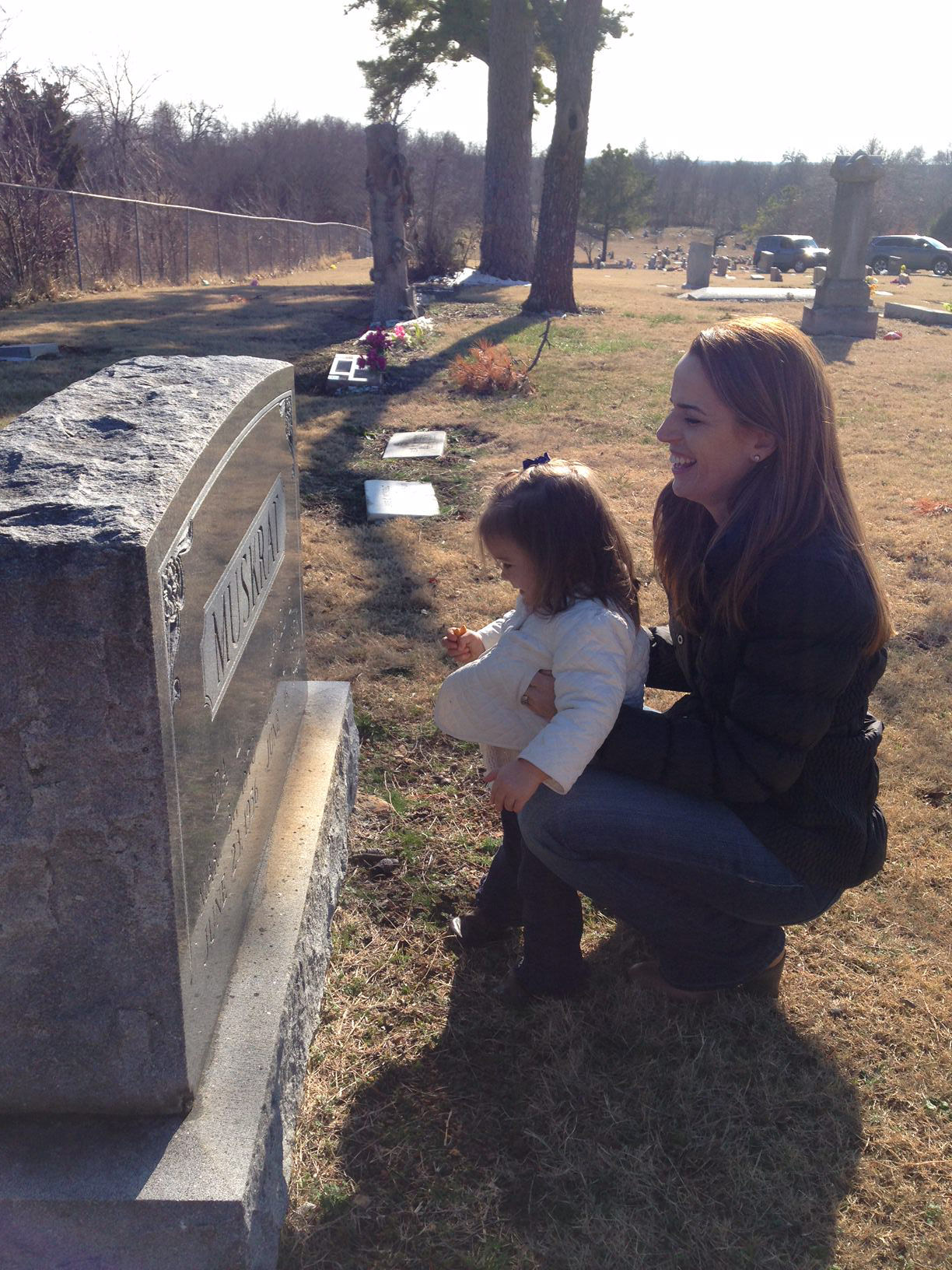 Jennifer shows one of her daughters her great great great grandfather's grave.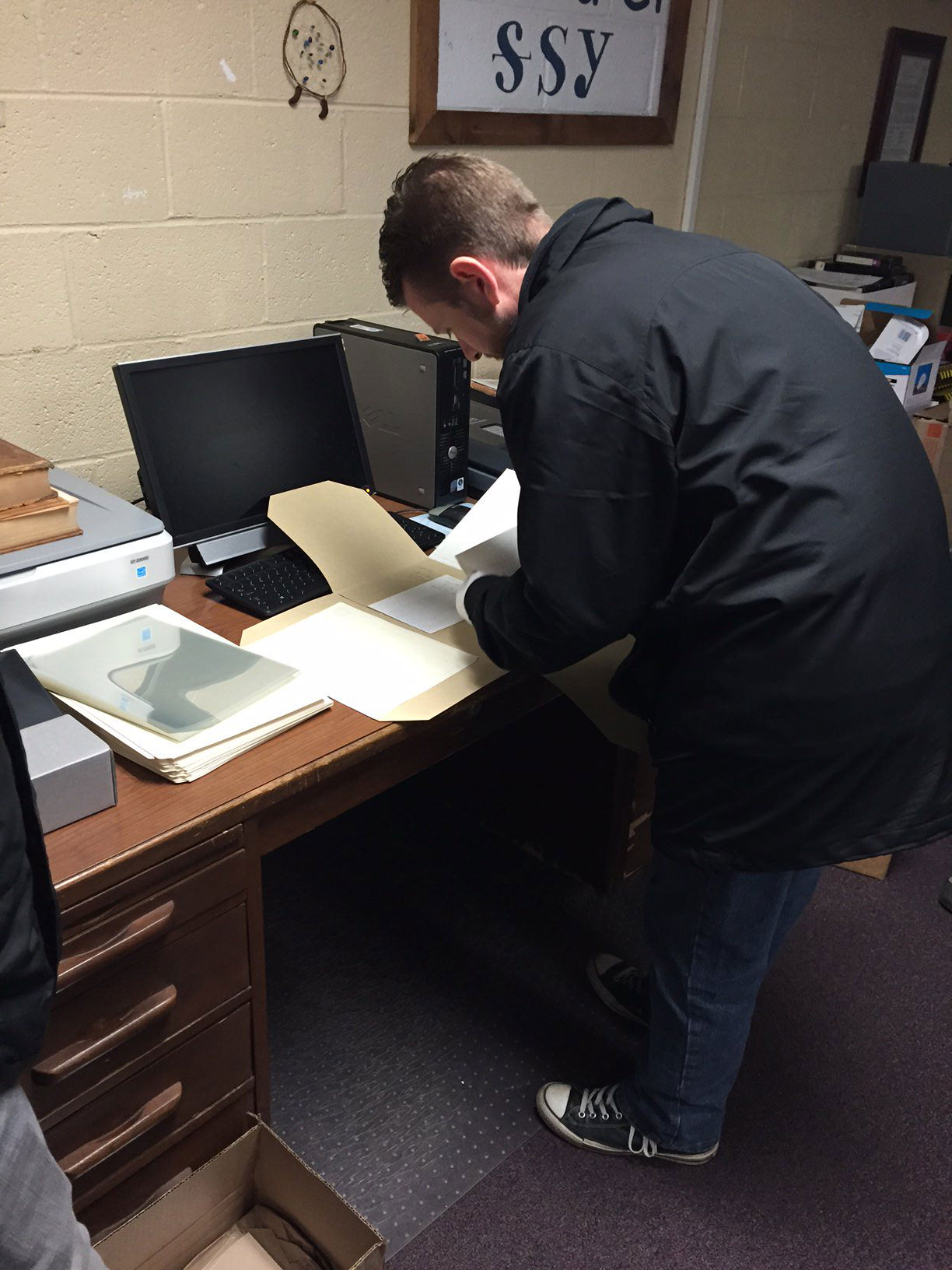 It is an honor to have access to so many historical photos for our stories.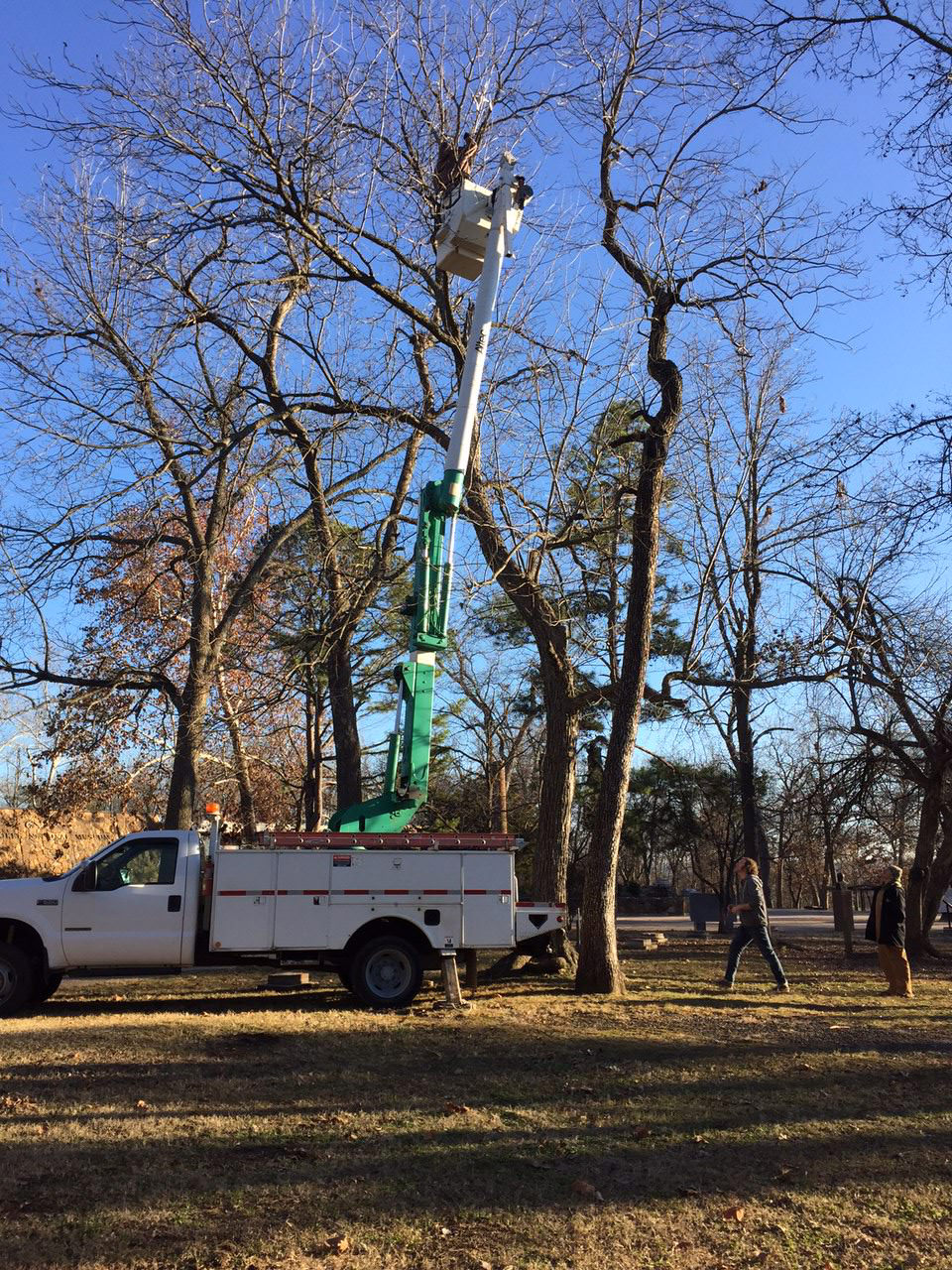 When our drone got stuck in a tree and had to be rescued.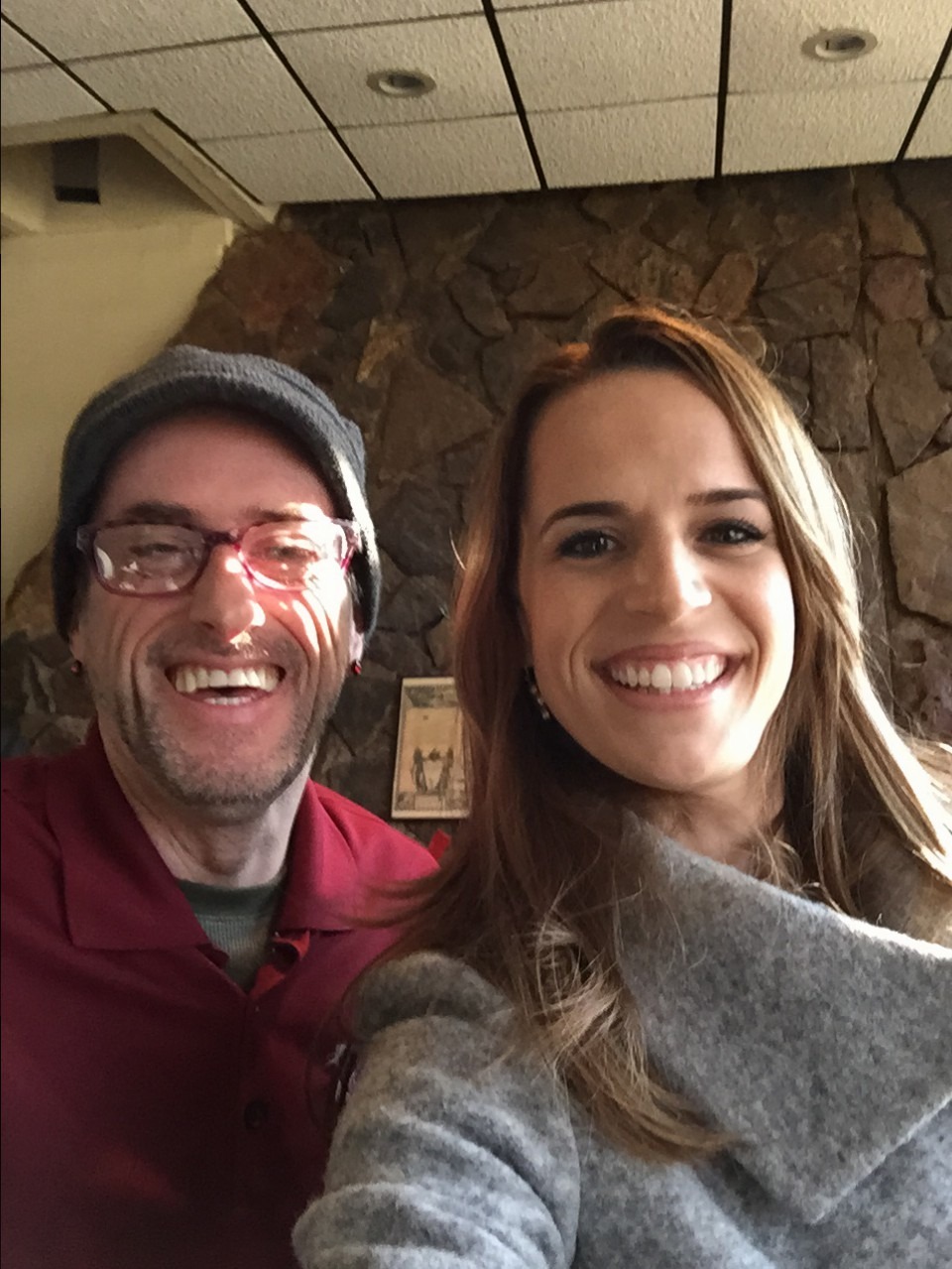 Gene the genealogist and Jennifer selfie!
We got locked up in the Cherokee Prison (Museum).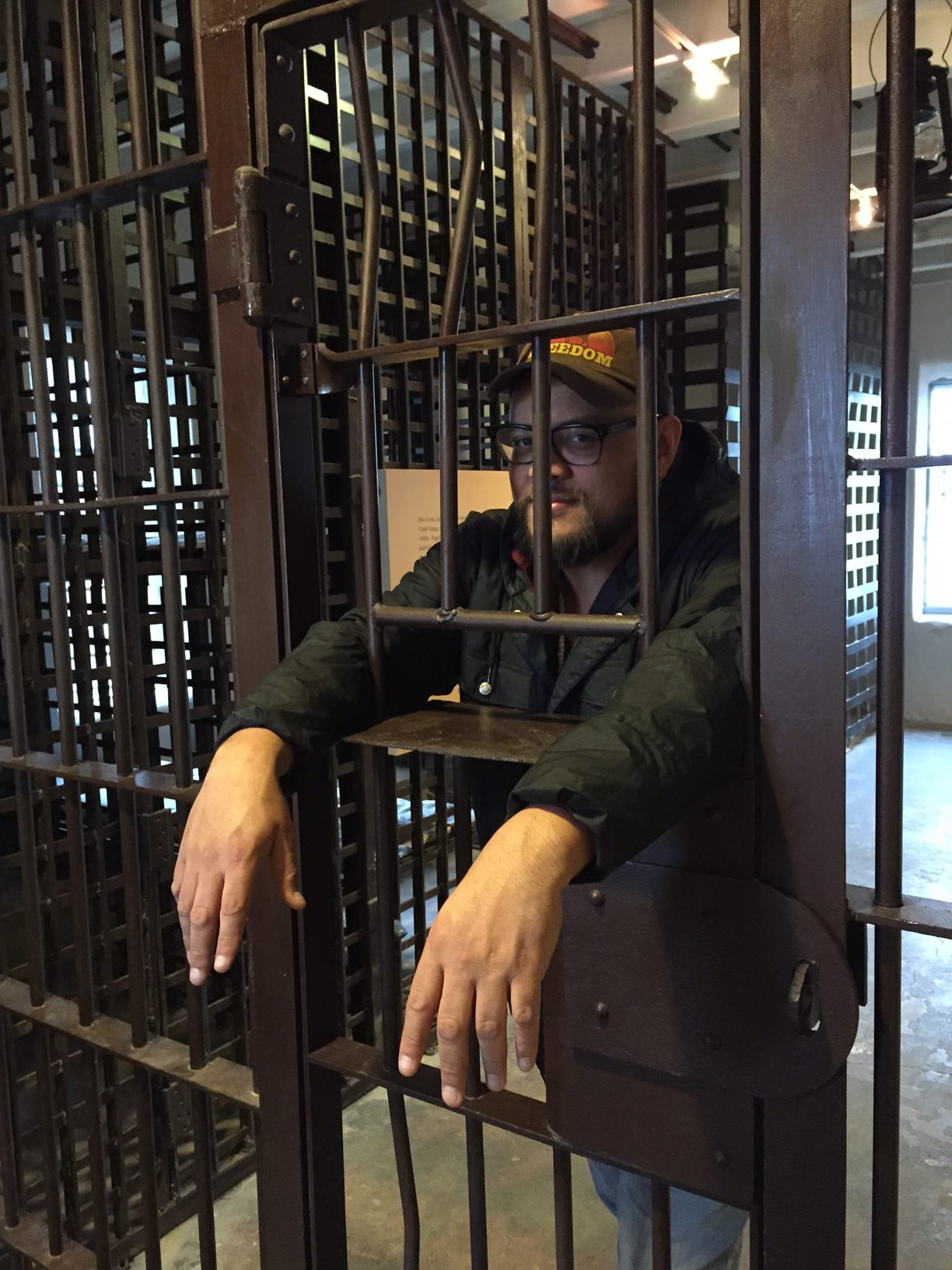 We locked Sterlin up too.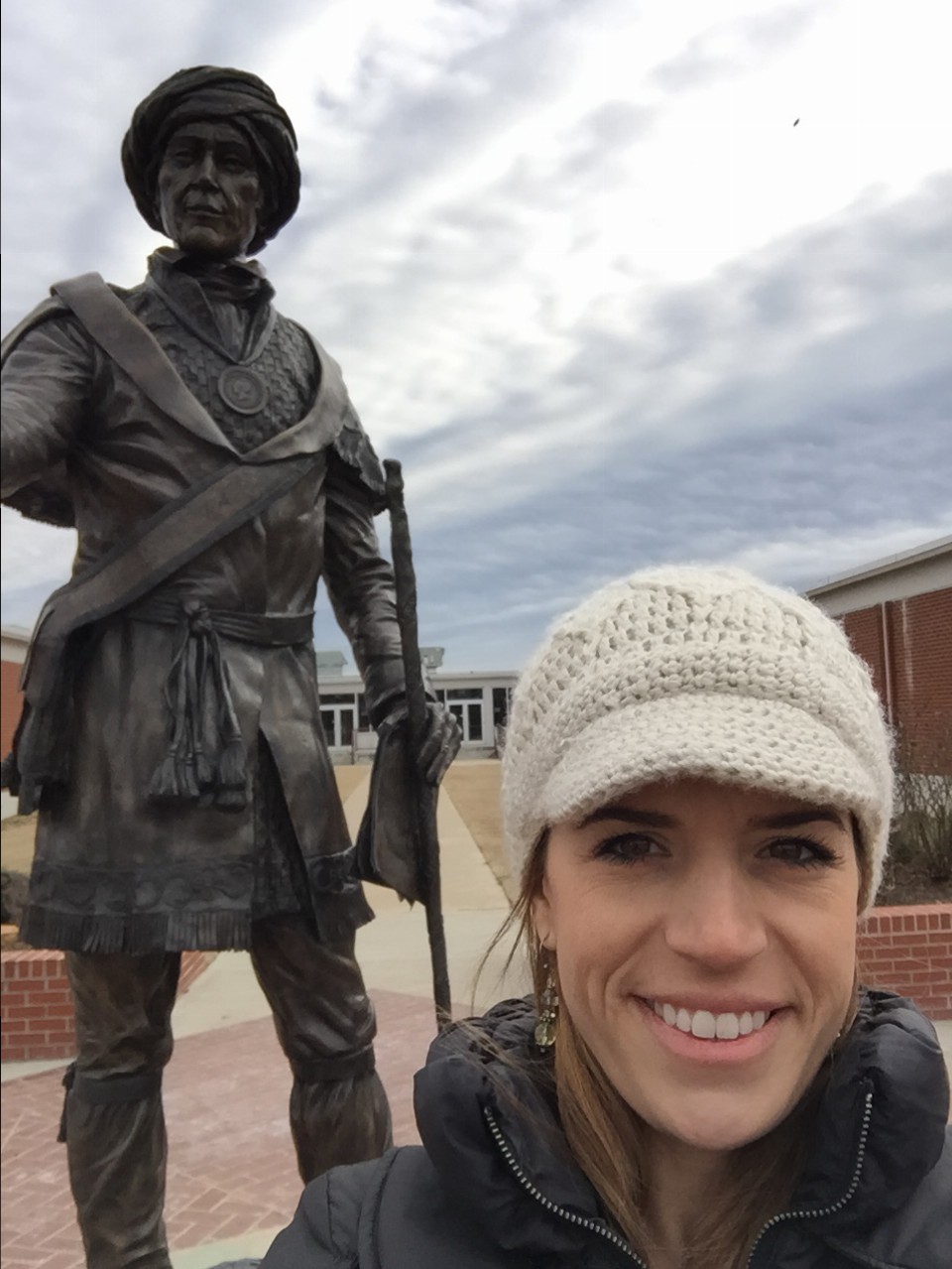 Jennifer and Sequoyah.